I have developed a craving towards seafood as of late. And pasta. And everything creamy. It's normal, I have these cravings from time to time. I think seafood and creamy sauces go exceptionally well. And then I come across these lovely baby clams the other day! It was as if some obscure culinary goddess floating about that culinary blogosphere somewhere suddenly heard my deepest, darkest longings and granted me divine providence (of beautiful baby clams)!
This Seafood fettuccine is quite a filling dish and a rich one, not very low fat I am afraid as I like to make this bursting with seafood and cream. But I assure you it is 100% natural and therefore is a healthy dish in my book. I also like to add some Parmesan on top as if all that richness is not enough. This is my version of decadent Italian, something that you savour just wrapping around your fork, and close your eyes with pleasure at each mouthful.
Seafood fettuccine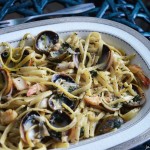 Prep Time : 20 minutes
Cook Time : 20 minutes
Yield :

3 servings
Instructions
Put a large pot of water on boil for the fettuccine. Add a tsp of salt and a tablespoon of olive oil into the water. Once it forms small bubbles, add the fettuccine. Drain once it has become al dente. Stir in some more olive oil to keep it from sticking. Keep aside.
In a pan, add 2 tblspns of olive oil. Add the garlic and sauté until golden. Add the onions and sauté until translucent.
Add the clams. Add the white wine and here's the fun part - set it on fire. Once the fire has gone down, add the rest of the seafood, thyme, oregano, salt and pepper. Sauté until slightly golden.
Add the fresh cream. Let the cream mix with all those lovely seafood juices. Wait until the mixture has slightly thickened and on a low heat, add the previously cooked fettuccine.
Add some parmesan on top before serving.
Print
Serve with some homemade bread to mop up all those beautiful juices afterwards!
Wonderfully velvety, absolutely succulent, this dish reminds me of vast expanses of beautiful blue oceans of the resplendent south coast of Sri Lanka. Prawns and cuttlefish explode with flavour at each bite while the clams open themselves up invitingly, bidding you to devour their juicy, supple centres. The fettuccine, and you must prepare it properly if you are to get it in this consistency, is ribbony and feels wonderful in your mouth, gliding across the tongue almost sensually, like woollen pashmina shawls against bare skin. Soft yet with a slight bite, it mingles with the flavoursome sauce piqued at by fragrant notes of thyme and oregano bringing you the taste of the sea. The sweetness and the fragrance of the wine pierces through the dish, and in these clean, clear flavours lie the elegance and the sophistication of the dish. And amongst the soft density of the pasta, thick pieces of cuttlefish and prawns frolicking with creamy flakes of Parmesan when bitten into, release their salty juices, so that when you close your eyes, you can almost hear the waves crashing against the beach and feel the sea spray against your skin, !
Sigh. I am craving this dish again.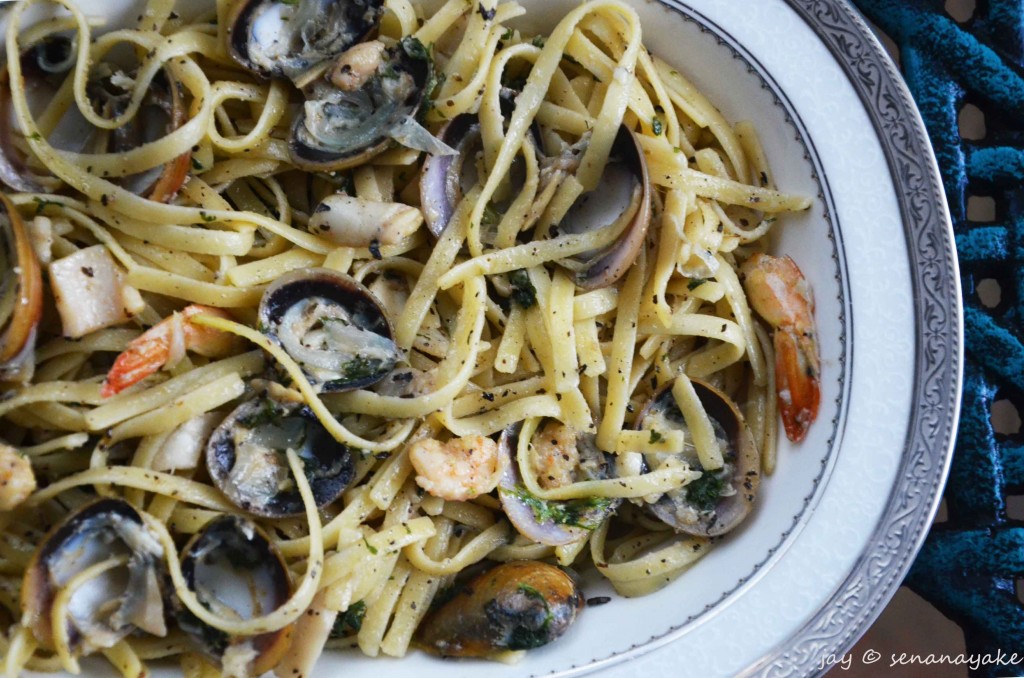 Cooking tips
When you add olive oil to the pot when boiling the fettuccine, it prevents them from sticking together and gives you beautiful individual ribbons of satin softness.
Do not break the fettuccine at any cost. Let them remain long and sumptuous. Then only can you wrap them around your fork in a tasty embrace.
By burning the white wine, the alcoholic acidity of the wine gets burnt out leaving the sweetness of it behind.
Since you are using the clams in their shells, make a note to scrub the shells thoroughly with a brush prior to using.
Good, fresh clams are usually clammed tight shut. If any of them are open, give them a sharp tap. If they do not clam close, throw them out.
If you can't find clams, and I am aware of how difficult to get one's hands on good quality clams around here, it is okay to go without. However, the dish would lose some of it's sea-reminding qualities in this case :(
As the dish cools, the sauce tends to dry out a little. Serve warm to avoid this.