Café Francais by Pourcel has been "coming soon" for quite some time adjacent Park Street Mews and I have held my curiosity for well over a year. When it finally opened, it was creating such a stir in the foodie scene, and stirring up controversial reviews all over the place, that I decided to try it out myself. The visit was spurred of course by my love for French food and also by my companion for the visit who had visited the place twice already and had many good things to say about it.
Ambiance
Chic upmarket French bistro, tasteful décor, ambient lighting, plush, comfy seating and an air that was decidedly French. We visited for an early lunch around 11.30 am on a Saturday and the place was mostly deserted except for two men chatting in a corner. We chose a corner where we wouldn't be disturbed where we could enjoy our food and conversation. My companion commented on how lovely it was when it is raining outside but unfortunately, I couldn't witness this as it was a sunny day outside. The overall aura of the place was enhanced by the art deco furnishing, the restrained plushness of the seats and such attention to detail that I instantly assumed that it would be a lovely place to have a quiet romantic dinner in the evening – depending on the crowd of course.
Menu & Service
The menu was limited yet tastefully varied. It was divided as starters – vegetarian and non-veg, seafood, meat and dessert and I would say that there was something for everyone. I was delighted to see escargot on the menu but was turned off by the fact that it was offered in the form of a feuillete (aka a form of pastry). I suspect the feuillete would be a form of Sri Lankanizing this quintessentially French dish? We would however suggest serving it up simple and elegantly – in their shells – for those who would appreciate this lovely delicacy. There was a large variety of wines and spirits offered which we did not try that day unfortunately. The venue goes as an upmarket bistro with food to cater to this specific phenomenon, yet the prices however are characteristic of fine dining – which is probably why many people assume that this is a fine dining venue – which it is not.
The service was rather quick that day, probably due to the fact that there weren't that many people. Upon arriving, I was escorted to my table by a somewhat haughty 'annociateur' who quickly disappeared after showing me to my seat, with a somewhat condescending attitude. As we settled in, the menus arrived at the table and food was delivered fairly quickly to the table. But at one point it was quite difficult to find 'un garcon' there, and we had to do quite a lot of arm flailing to catch somebody's attention.
We also felt that the knowledge of the waiters with regards to the food that is served there was on the unsatisfactory side. We were curious about the cheese platter that we ordered for dessert and wanted to know what cheeses we were to be presented with. The waiters didn't know! Which was a pity because it was a rather nice cheese platter.
The food
After ordering the fare, we were served with an adorable bread basket – a little pail of sorts that contained an assortment of breads which tasted quite fresh. Alongside this was served a confit of what I suspect is tuna, a thick flavoursome pate that could be slathered over the breads and nibbled at will. The breads were myriad and portions satisfying; the pate, pleasing. This was quite a generous portion for an amuse bouche and we thought that it was a nice touch. This made waiting for the food quite pleasurable and we still weren't quite ready to part with the bread basket by the time the food arrived. We thought that this was a lovely start to an enjoyable meal, which was very much appreciated.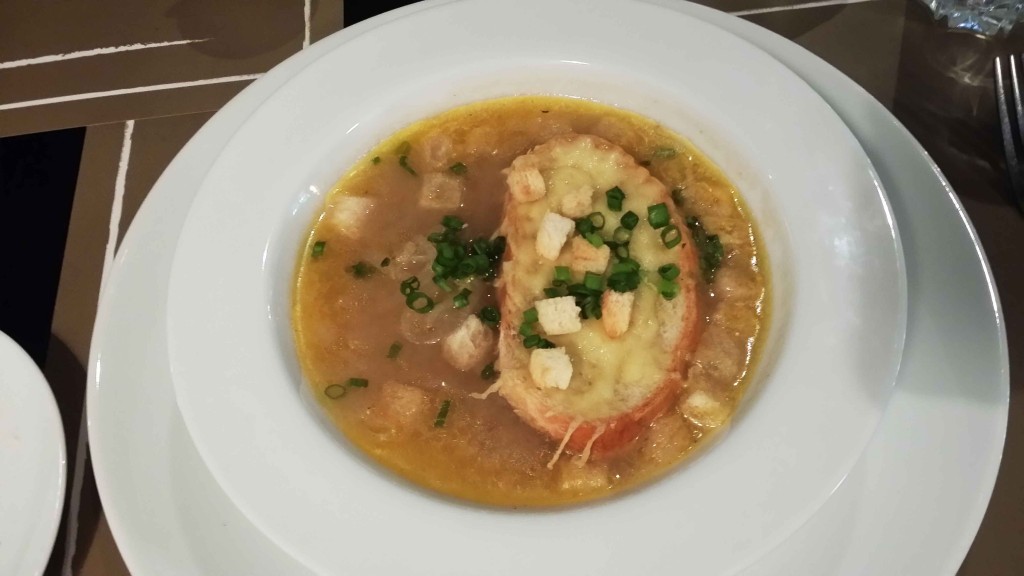 French onion soup – Plentiful, fragrant and easy on the eye – at just Rs 790/- ++, I got a deep bowl of oniony goodness with a floating piece of toasted baguette topped with some melted Emmental cheese. I was expecting a copious cheese fountain with toasted streams of cheese running down the sides with this one, but sadly enough, the cheese wasn't as generous and I could barely taste the Emmental. However, the soup did not disappoint. It was rather light and easy to simply slurp through but once done, you feel quite full. The semi-clear brownish broth was very much flavourful and fragrant with the caramel of the onion merging together perfectly upon a canvas of herbs and garlic and simply sang upon the palate. The butter gave it a sort of richness and there was slight acridity that complemented the flavour bouquet which could have been wine or any other liquor. Perhaps I am mistaken and it was due simply to the onions.
And the onions, oh there were a lot of them! Towards the bottom of your bowl your spoon strikes gold. Heaps and heaps of thinly sliced onions, brown and caramelized and oh-so-soft, still retaining something of a bite. Coupled together with the now somewhat soggy slice of cheese clad bread floating atop the soup, this was a soup that you could sip at and eat at the same time! Personally, I get frustrated with soups in which there is nothing to bite on, and being a self-proclaimed carnivore, it is difficult for me to get satiated with anything completely veg. But this soup cut it for me.
Recommended.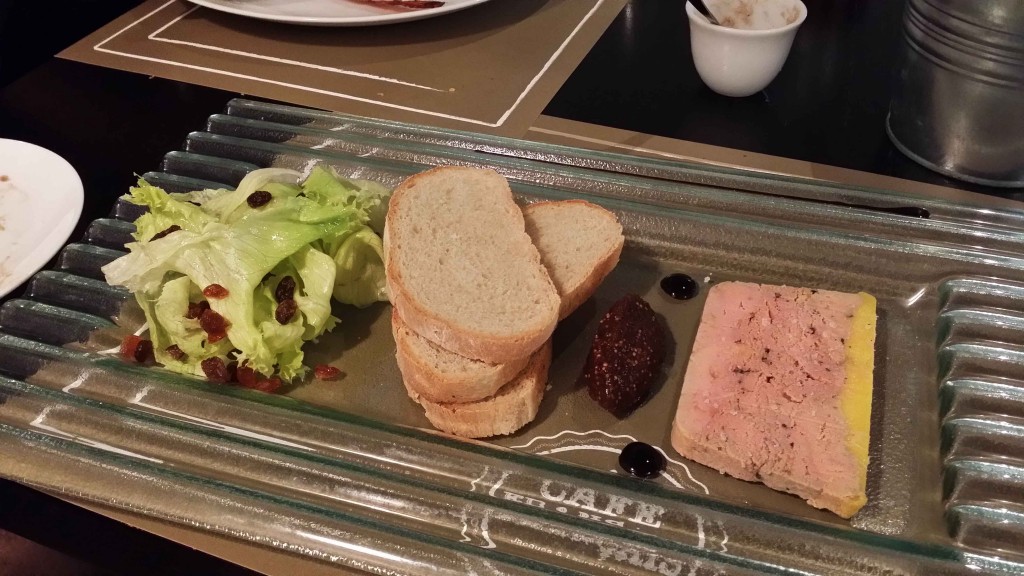 Homemade terrine of foie gras with dried fruits and fig chutney – After the soup I was too full to go for a full main so I decided to go ahead with another starter instead. At Rs 2600/- ++ I have mixed feelings about this. The slice of foie gras terrine was quite generous and flavourful and there was a generous portion of 3 toasted baguette slices to go with it which were fresh, toasty and nice. The fig chutney was just wonderful. It tasted fresh and little fig seeds were popping in the mouth in a sweet and tart mush that sang of figs and it served as the perfect flavour companion to the foie gras terrine which was very rich and coated the mouth with its fattiness. The fig chutney however helped curb the richness of the foie gras by cutting through the thickness with its mild tartness while at the same time lifting it beyond, with a fruitiness that was absolutely delightful.
I was somewhat disappointed with the salad though. The promise was a salad of dried fruits and all I got was some sultanas and lettuce. A few dried apricots, peach, dried apple, assorted nuts and perhaps a few prunes together with some crispy fresh iceberg lettuce would have gone nicely with the fare and would really have lifted the dish to another level. It was quite a disappointment as the terrine itself was quite nice and it deserved a worthy companion to go with it.
Moderately recommended.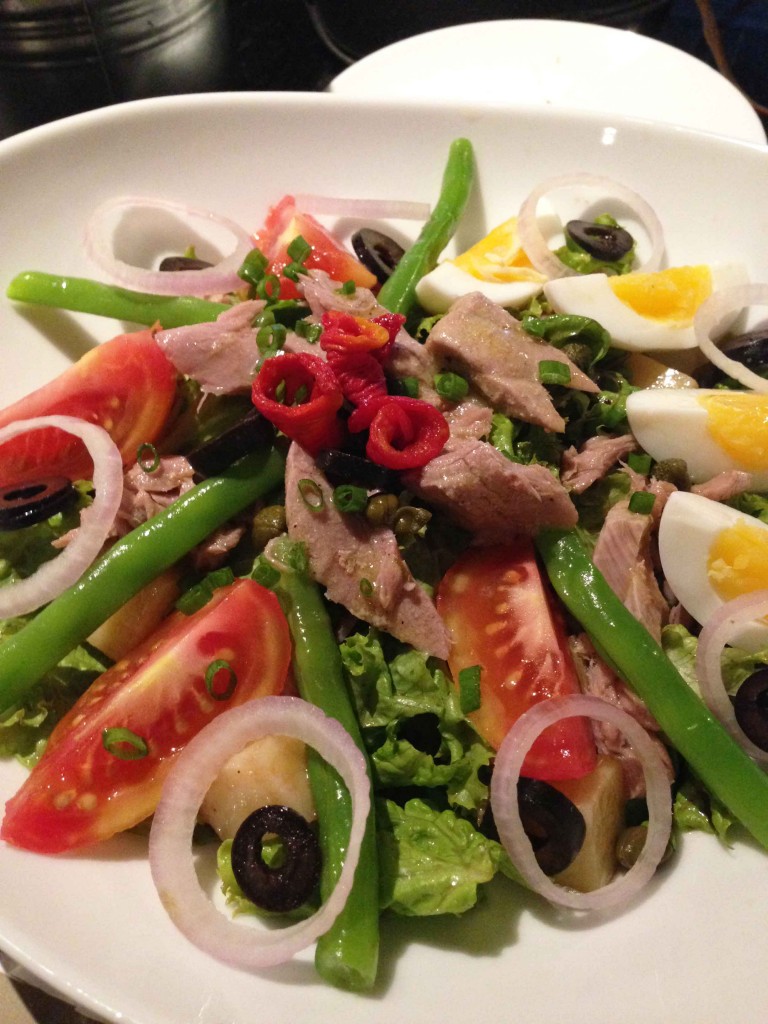 Salade Niçoise (tuna confit, eggs, potatoes and green beans) – At Rs 990/- ++ this was the largest salad that I've ever seen! Large pieces of tuna, generous slices of egg (ah that lovely yellow yolk!) gently blanched beans, salty anchovies, slices of black olive, sweet ripe tomatoes, copious amounts of lettuce and a lovely, slightly acidic dressing that brought it all together. The lettuce was crunchy, the eggs were soft and creamy, the saltiness of the anchovies piercing through it all while the blanched beans although not as young and crisp as they should be, gave it a touch of green. Amidst all this the chunks of tuna was very pleasurable to bite into. It was what my companion had ordered and she was generous enough to give me a taste. Here's what she thought of it:
"The Salade Niçoise was splendid: crisp, fresh lettuce, mildly crunchy blanched beans, perfectly cooked small potatoes and cleanly distinct elements, finely arrayed. Tender black olives, anchovies, thinly sliced onions and ripe tomatoes. The slices of tuna were beautifully and delicately placed throughout. The lovely quartered half-boiled eggs were like small slivers of sun."
Highly recommended.
Barramundi, aubergine caviar, scallion and grilled bacon, virgin sauce – At Rs 1690/- ++ it looked very pretty on the plate. Since I am not the greatest fan of fish, I did not want to taste it. Here is what my companion thought of it:
"The barramundi was regrettably lacklustre. The flavours were bland, and the whole effect was listless – I found myself toying with the contents of my plate, wishing I had not given in to the call of the wild – which turned out to be the call of the mild."
Well, I guess she didn't like it much – and therefore, of course it is Not recommended.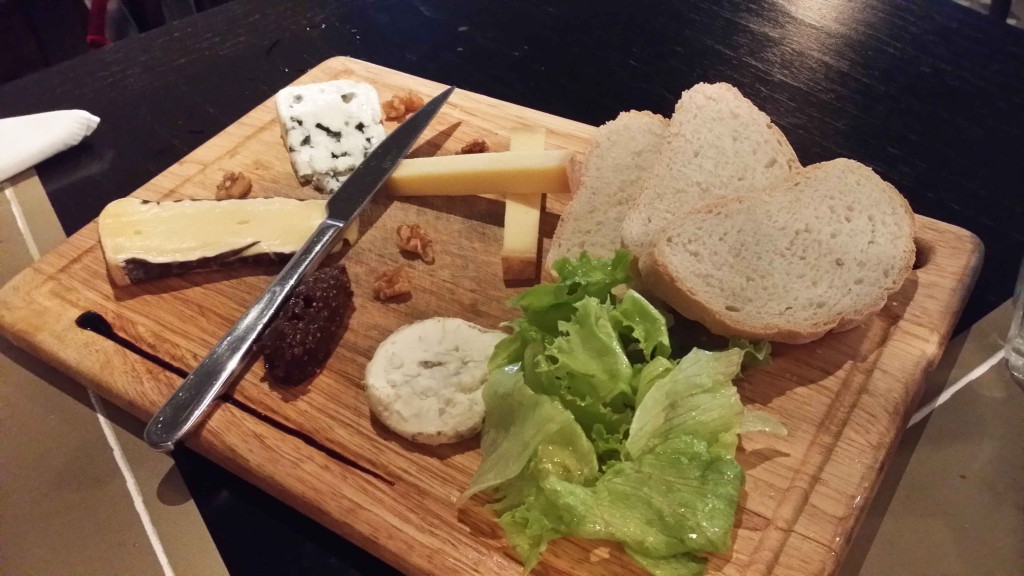 We decided to skip the sweets and order the Café Francais French cheeseboard for dessert. We decided to only order one cheeseboard and see how that went since we were still quite full from the heavy lunch. The cheese board comes with four moderate pieces of cheese, lettuce, a fig chutney (the same that was served with the foie gras) and a few pieces of bread. We were glad that we only ordered one board. There was a sort of blue cheese, two sticks of probably gruyere, a round of brie and another piece that we just couldn't place. When we asked more than once, we were told that it was goat cheese. It was lovely, cold and sour. Of course we could be wrong, since nobody could tell us what the rest were! In any case, we liked the cheese board. At Rs 1600/-++ it was a decent enough indulgence and a lovely treat for cheese lovers.
Recommended. If you are two, it's better to order only one. 
Also, may we suggest a wine pairing with the cheeses? Would the restaurant proprietors be willing to consider this option? It seems such a tragedy that such a grand selection of wines and cheeses are kept separately, without each other's company!
 The drinks
I have heard many things about Café Francais's eclectic wine cellar but we did not try any of it on this visit (It felt somewhat inappropriate at only 11.30 in the morning!). I ordered a mango juice while Dulcinea ordered a cappuccino. My mango juice at Rs 350/- was well, just a mango juice. I was relieved by the fact that they didn't overload it with sugar as most places do and it came in a tall glass so I was happy. However, you could tell that the mangoes used weren't of the best quality and this was a pity as this is a country where the juiciest, most magnificent mangoes can be found!
My companion ordered a cappuccino to have with her cheese. And here's her opinion of it.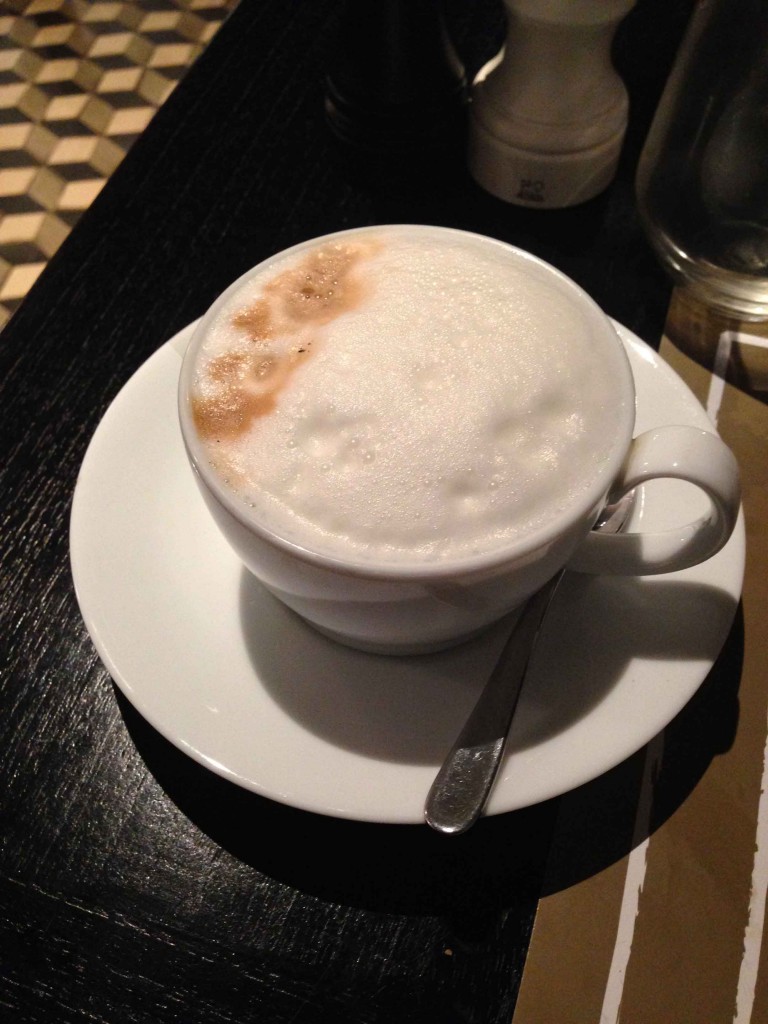 "The coffee was mild and mellow. Does not make you burst into song but you find yourself humming".
So the verdict? Good food, but not exceptional food – but an exceptional ambiance with that 'je ne sais quoi' about it and an unmistakable tastefulness that is effortlessly elegant.
My companion for the day felt that some dishes were exquisite, but some were not of equal excellence. And the contrast was noticeable.
And the million dollar question – would I be visiting again? Yes, but only on a special occasion when I am not so fussy about the virtue of value for money in food but simply wanted to bask in the intrinsic French-ness of it all.
My companion for the day recommended their Eggs Benedict for breakfast. Note: fresh croissants are only available on the weekend.
In conclusion,
The food – 3.5 stars
Price range – Approximately 11,000/- for two with non-alcoholic drinks.
Service – 3 stars
Ambiance – 4.5 stars
Personal note – Recommended for a romantic rendez-vous, a girls' lunch or ladies' night out or simply when you are feeling indulgent. My companion for the day recommended trying the Cafe Francais for a quiet lunch on a rainy day.
FB – https://www.facebook.com/cafefrancaisbypourcel/
Web – http://www.cafefrancaisbypourcel.com/