I <3 Bread pudding :)
Cold bread pudding, screwing my face up as I bite into pieces of lemon peel, cardamom pods and sorting through raisins are amongst my most fondest memories of childhood. And that is exactly what this blog is about – Nostalgic food that are close to the heart.
Of course this is a different recipe than what my mother used to make for us when we were small. I don't remember the exact differences but I do remember this; she likes to serve it cold, I like my bread pudding hot.
Derived from the British, the classic bread-and-butter pudding becomes plain old bread pudding when it comes to this tiny island. How do we like it? Very Sri Lankan. And here is my recipe.
Ingredients
12 pieces of bread (approx.) top crust removed
4 eggs
Sugar (as per taste)
500 ml Sweetened condensed milk (can be alternated by 500ml regular milk)
1 rind of lime
4 tablespoons powdered spice (cinnamon, cardamom, nutmeg, clove)
200 g butter
200g raisins/sultanas
Vanilla essence
Method
– Beat the eggs and sugar together until well combined.
– Add the milk.condensed milk and beat.
– Add the ground spice, few drops of vanilla essence and the rind of lemon. Keep mixture aside.
– Butter both sides of the bread and layer the bottom of a baking dish with a layer of bread.
– Sprinkle raisins/sultanas over the bread. Then pour a part of the egg/milk mixture to soak the bread.
– Spread another layer of bread over this. Keep layering till all the bread and the mixture is gone.
– Bake in a moderate oven till the top is crisp and a skewer inserted in the middle of the pudding comes out clean.
– Serve warm with a scoop of ice cream melting over the top.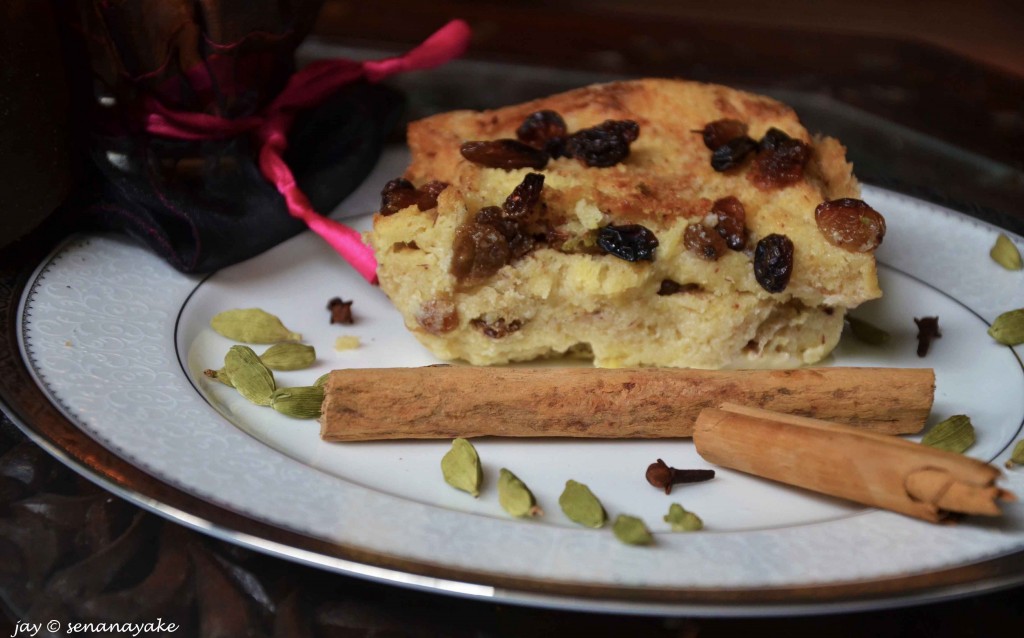 The result? Beautiful, soft, yielding pudding with a moist middle that is buttery, milky and not too sweet. The top is browned wonderfully so as to give a buttery crunch to the otherwise spongy treat. The finely grated lime rind gives the pudding the distinct citrus taste and aroma while the spices add a certain fragrance while also cutting through the buttery sweetness of the pudding. Ah, decadence!
I like this warm with a bit of vanilla ice cream melting over the top. It's just fine without the ice cream too and would serve very well as a teatime treat on its own as well as an indulgent dessert after a meal. Get creative with it as this is a very versatile dish. Fruit sauce, fresh fruit, custard anything goes.
A warm bowl of this on a rainy cold day, cuddled up on a couch. Heaven just heaved a longing sigh.
I like this very Sri Lankan bread pudding for the fact that is unimaginably simple. Uncomplicated, clean flavours and a myriad of textures for your whole being to wonder and ponder over. What is more, it can be made out of the ingredients that can be found in any household without having to splurge on expensive ingredients. It also appeals to the lazy person that I am, taking literally just minutes to make. And the sweetness isn't too overpowering either. This can be downed in bowlfuls and while it is very filling, one would not feel sick from too much sweetness as is the case with other desserts out there.
What can I say? This is a taste from childhood that I still crave for from time to time. Mother, the best cook that I know in this world said that this particular one was exceptionally good. Made meself proud :)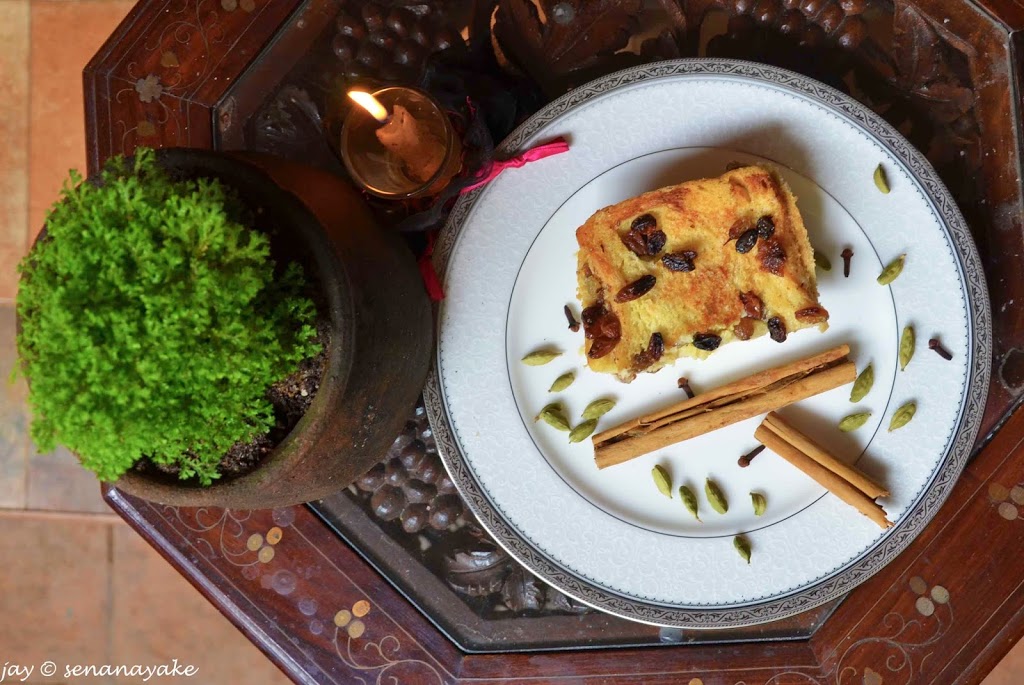 Photography – Jayani C. Senanayake. Copying, downloading these images and using them in any which way is strictly prohibited.