I've never celebrated Valentine's Day. Not even once.
I am rather annoyed with how commercialized everything has become over the years. Roses, fancy candies that cost you an arm and a leg, expensive Valentine's Day dinners – it's ludicrous how much we are spending to make these big corporates wealthier.
But I also believe that any opportunity to celebrate with food must not be missed.
So this Valentine's Day, make a vow to yourself. Love is worth celebrating, so celebrate, make that special person feel even more special. But you don't have to spend exorbitant amounts of hard earned cash to do so. Because for me, nothing spells love & romance like a simple, home prepared treat made with love.
So I'm celebrating Valentine's with food, a Valentines Day recipe if you may. Strawberries, chocolate and whipped cream to be exact. Three of my favorite things which I don't have the pleasure of indulging in often because, well they taste oh-so-sinful!
These tarts are light and delicious and so easy to make that you don't have to sweat for ages. It's simply an assembling job which you can pull off within minutes and sit down with your darling for a heart to heart chat over a glass of wine.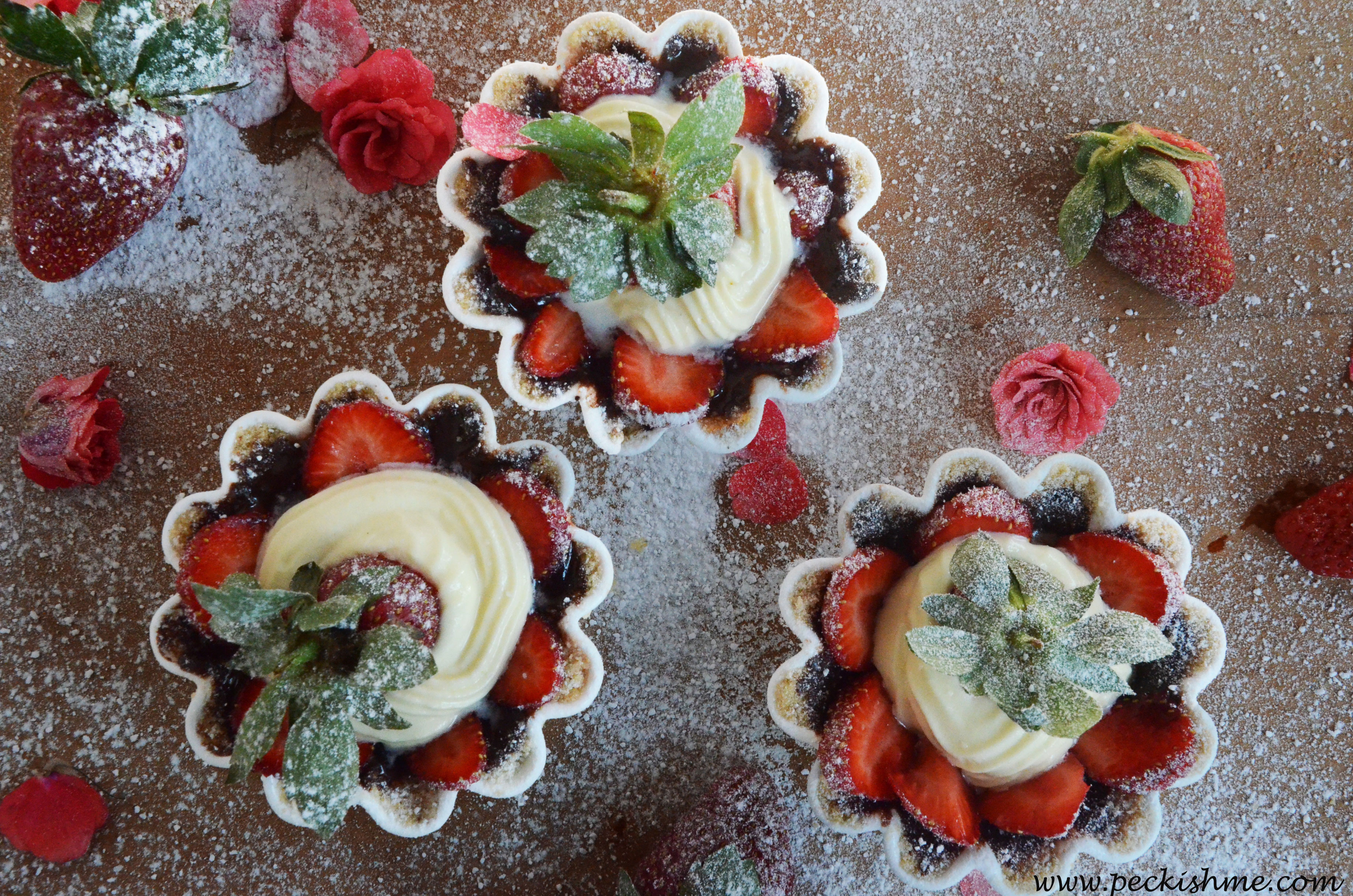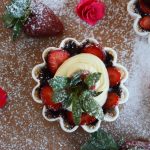 Strawberry chocolate tart
Ingredients
Instructions
Combine the Marie biscuits, 100g butter and sugar in a food processor. Pulse until the mixture becomes a grainy, crumbly but wet mixture. Keep aside.
Melt the dark chocolate, 2 tblsps milk and 50g butter together over a double boiler. Set aside to cool slightly.
Butter individual ramekins. Press the biscuit mixture to the bottom to the top of the ramekin to form a sort of a cup inside. Pour the melted chocolate inside and coat the entire inside with chocolate. Keep in the fridge for ½ an hour.
In the meantime, whip up the whipped cream with the confectioner's sugar to form stiff peaks. Set aside.
Slice the strawberries like flower petals. Set aside.
To assemble
Take the ramekins out. Spread a layer of strawberry jam. Layer it with sliced strawberries. Pipe some whipped cream and top it up with a whole strawberry.
Fridge until ready to be consumed.
This really is the ideal way to end a romantic candlelit dinner. Speaking of dinner, may I suggest this delicious mushroom & ricotta ravioli, lamb risotto or this delicious seafood fettucini  (I just realized that all my choices are Italian!) which are all equally indulgent choices.
This combination is so dark and seductive and yet dainty enough to be piqued at elegantly. Dark chocolate + strawberry is a classic aphrodisiac combination that tickles the deepest, darkest crevices of your desires and lures out your most intense emotions from their lair, transforming the night into your very own adventurous love terrain. The cream balances out the intensity of the combination, bringing in a mellow innocence that coyly sprinkles sweet little smiles, but hides beneath its lacy skirts, mass weapons of ravenous yearning inducing voracious appetites for all things love and longing. Bite after bite, watch as your fervor unfurl, feel the rapture of romance as the bitterness of chocolate combines with the sweet-sour of the strawberries, only to be veiled ever so bashfully with the voluptuous creaminess of the whipped cream frolicking upon your tongue. The sweet peeks from within clouds of mellow, the sour piques and pierces, the chocolate colours it dark and drags you into its cavernous depths. Each bite is a guilty pleasure, each blow of sigh-inducing titillation softly cushioned with the loving caress of cream lovingly breathed into life. Let the devil whisper in your ear. Just this night.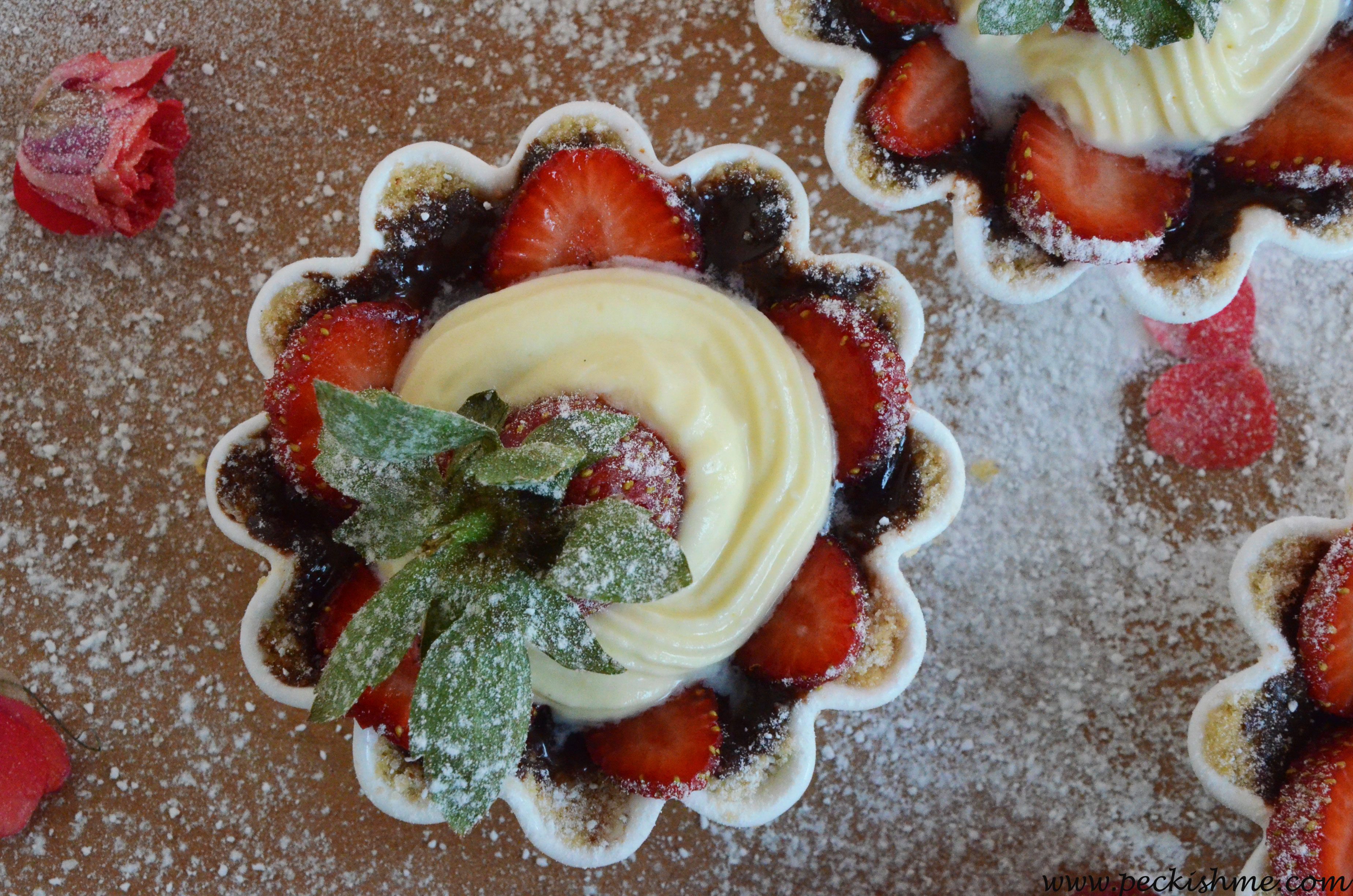 Irresistible. Elegant. Tastefully indulgent.
Simply, a rewarding sensual secret.
Regardless of the combination, it is not too sweet yet is brimful of flavour. The velvety cream and the chocolate mellows out one another ultimately creating a blissful balance that is pleasing on the tongue and also on the mind.
So if you were looking for your perfect Valentines Day recipe, I believe you have found it.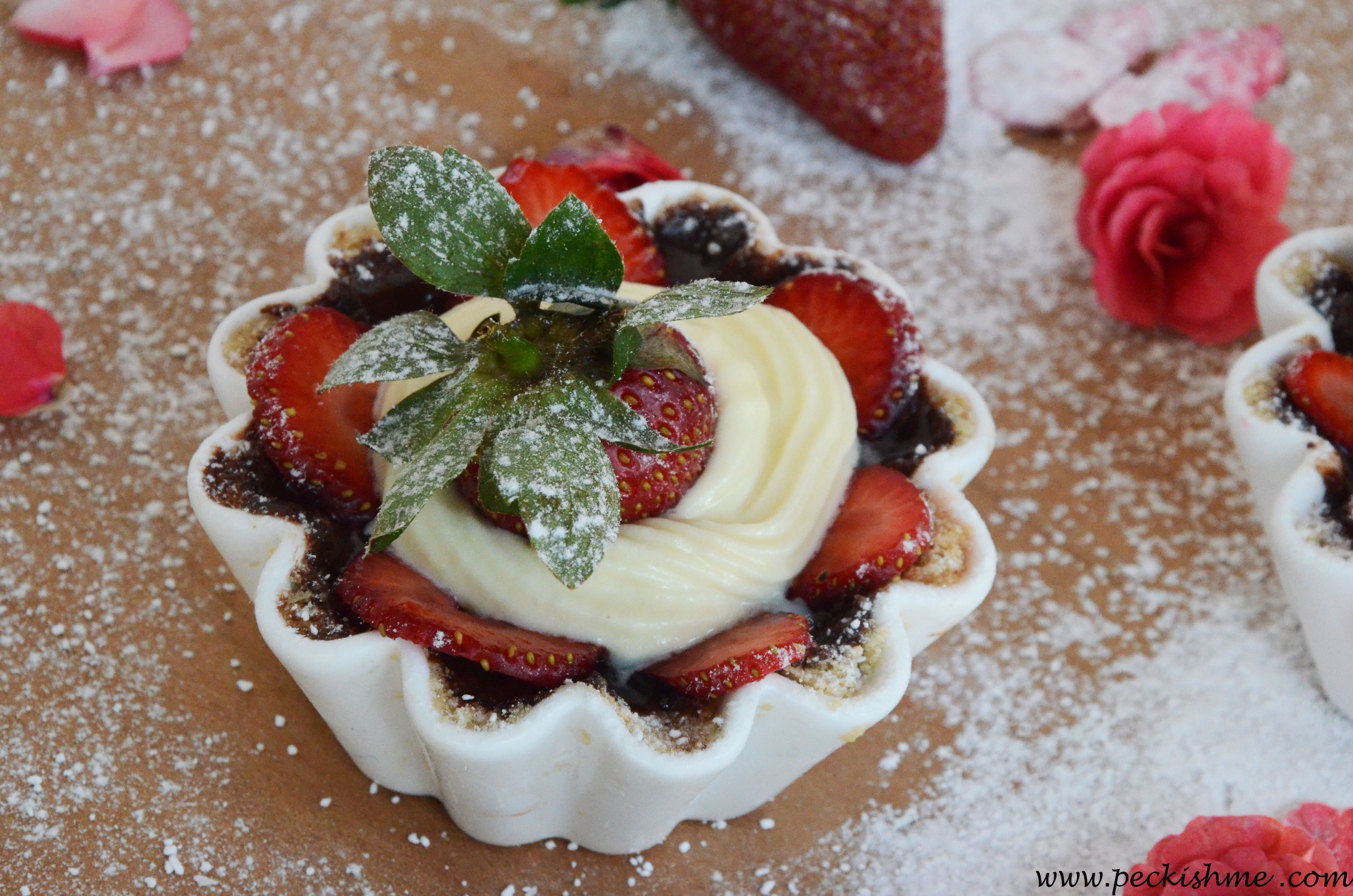 Cooking tips
To make homemade strawberry jam, boil 2 pounds of crushed strawberries, 4 cup sugar and ¼ cup of lemon juice until  the mixture reaches 220 degrees F. Store in sterile jars.
The chocolate crusts and the jam can be made before hand. It is better to do the assembling minutes before consumption as fresh strawberries tend to water if sat too long.