If you ask me what my favorite cake is, chances are you will probably get yourself a list of 5-6 options. And within that list would definitely be tres leches.
Tres leches literally translates to "Very milky" which is in essence, what it is. The cake, after it is baked is soaked in three types of milk – typically whole milk, heavy cream and evaporated milk and even condensed milk. The origins of the Tres Leches is disputed and while some claim that it is from Mexico, others claim that it is from Nicaragua. Wherever it is from, this cake is very popular in Mexico, Nicaragua, Cuba, Puerto Rico, Guatemala and basically, all of Latin America.
Interestingly though in the 19th century, a bread cake soaked in wine and topped with custard was made very popular in Mexico which is thought to be a spin of the Italian Tiramisu or the English Trifle, both of which are sponge cakes that are soaked in alcohol and topped with heave cream, cheese and sugar. This was a great way of making use of leftover cookies, bread or cake and became extremely popular over time due to obvious reasons.
 However, it does seem like Nestle had its hand in making Tres Leches mainstream during these days as it is said that when the Nestle Company opened up plants in Mexico during World War II, there was a recipe for Tres Leches printed outside of the cans of evaporated and condensed milk cans. And in these difficult times where distribution and storage of fresh milk was difficult, evaporated milk and condensed milk were very much popular in urban areas where access to fresh milk was limited. It was no wonder that the recipe spread so wide.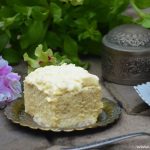 Yield: 15 servings
Prep Time: 15 minutes
Cook Time: 30 minutes
Print
Tres Leches Recipe
Ingredients
Instructions
To make the cake
Preheat the oven to 350°F and butter and flour a 9×13 pan
Sift together flour, baking powder and salt.
Separate the egg yolks and the whites. In a spate bowl, beat together the egg yolks with ¾ cups of sugar until the mixture thickens and becomes light yellow in color.
Beat egg whites with the remaining sugar until stiff peaks form.
Mix the flour mixture with the egg yolk mix. Fold the egg white mix into the flour mix gently.
Pour into prepared pan and bake until a toothpick inserted into the middle of the cake comes out clean.
For the milk soak
Mix together all ingredients of the milk soak.
Place the cooled cake on a tray. Prick it with a fork. Slowly drizzle the milk mixture over the cake, taking care to cover the entire cake right down to the edges.
Allow the cake to soak it all up for at least 30 minutes.
For the whip topping
Beat together the cream and the sugar until stiff.
Top the cake with the whip topping.
Keep in the refrigerator and if preferred, this can be served up with fruits.
Deliciously milky is the best phrase I can use to describe this.
The flavors and mild and the vanilla sings through all the milkiness beautifully. The whipped cream provides a wonderful fluffiness. The cake itself is very moist but not mushy with the three milks combining to create the perfect sweetness – not too sugary, not too bland. It is basically a big sponge soaking up a lot of milk and this in its essence, becomes my favorite cake.
If you can't find evaporated milk, use powdered milk dissolved in ½ the water than recommended. I use this trick all the time.
Useful tips
When beating egg whites and whipped cream, always use glass or metal bowls without any trace of grease or water as this will prevent them from rising.
If you can't find evaporated milk, use powdered milk dissolved in ½ the water than recommended. I use this trick all the time.
For best effects for whipping cream, freeze the bowl and whisk prior to whipping.