The intoxicating smell of butter burning, the thin crackle of the sugar as it breaks the surface, that warmth of browning cookies in the oven on a particularly gloomy day turns any bad day into a beamingly good one. As you drift towards the kitchen you are greeted by the sweet sensuousness of vanilla extending its delicate tendrils towards you invitingly. You cannot help but smile and I often find myself hugging myself with pure contentment on moments like this. I love baking cookies. It comes as a surprise but cookie recipes are my favorites to experiment with.
It was one of the doom-and-gloom days.
Tired. Low blood pressure-induced lethargy. Not an overall cheery day for me and certainly not a conducive day for doing anything however many easy cookie recipes you had at hand. But there was something about this recipe that lured me on. A printed recipe, possibly torn off a cookbook with an old fashioned (and very faded) picture of a plate of cookies, I discovered it in an old bureau amidst the moth-eaten pages of an old recipe book at home. I almost threw it out thinking it to be a scrap of newspaper that lined the bottom of the drawer, but stopped myself just in time.
Now, Sri Lankan homes are large and airy and we love our open spaces a little too much to make our living quarters enclosed, so humidity and insects get the better of our wares, especially books, if we are not careful. I fear that this particular recipe too would have fallen victim to this extreme tropical-ness of our living conditions. Which is another reason why I am particularly fond of these cookies. Because while I have messed around and adapted the recipe to suit my preferences, I am happy to have preserved it right here.
If you are Sri Lankan, you probably remember the round tins, striking in a splendid royal blue with pictures of curiously shaped cookies on its lid. Mothers and grandmothers would store their thimbles, needles and spiels of sewing thread in these tins and thrifty aunties would store bits of lace and trimmings from the many  I used to get so excited at the sight of these. The first thing I do once mother opens the tin is poke my face in and inhale its glorious buttery aroma, eyes rolling back in sheer pleasure with what is to come.  Royal Dansk Danish Butter cookies, the name would read in grand imperial letters across the diameter of the lid. Each cookie, or biscuit is to be savored slowly and carefully for there are too little biscuits and too much demand. Every little crumb gets picked, every little morsel scooped up and placed in mouth, every shape scrutinized and nibbled at very carefully, sometimes to create different shapes out of them. This is how we cherished these biscuits. The milky-soft imported biscuits that we had inevitably fallen in love with as children.
Why I told that story is because these cookies taste exactly like them! They may not look like them but the taste is extremely nostalgic right down to that sunny buttery aftertaste that it leaves on your tongue. These cookies are softer however and dare I say, melt in the mouth? In any case, they are unlike any cookie that I have ever tried and I mean that in a very good way.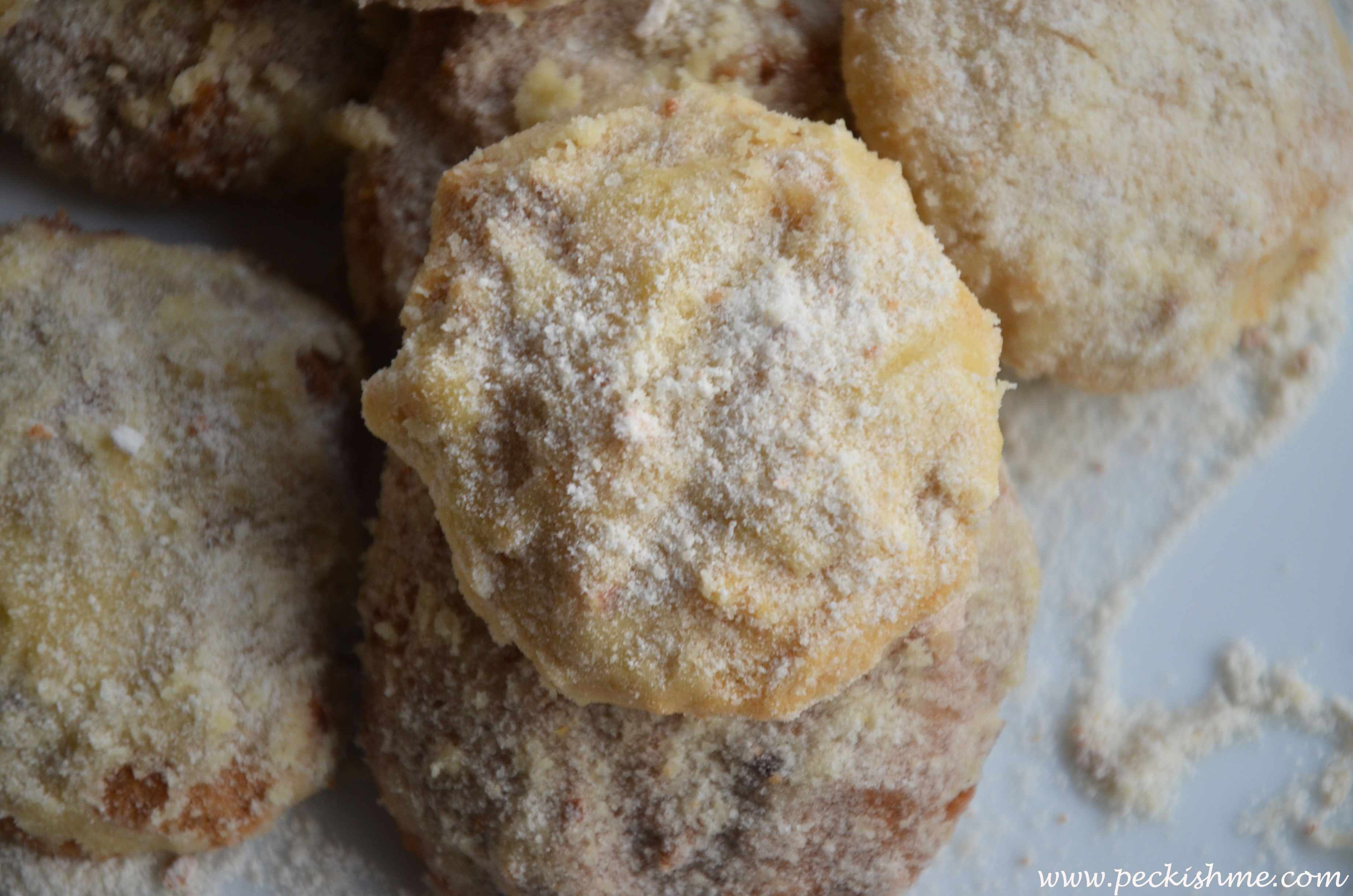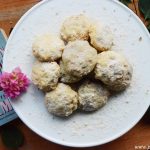 Yield: 16 cookies
Prep Time: 15 minutes
Cook Time: 25 minutes
Serving: 15 cookies
Print
Butter cookies
Ingredients
Instructions
Heat oven to 300F.
Beat together the butter and the ½ cup sugar until light and fluffy. Add in the vanilla, nuts and then eventually the flour.
Mix together to form a dough.
On a prepared pa (lined with baking paper), drop a spoonful of the mixture, roughly shaping into a ball.
Bake for about 20 minutes till cookies are set enough and they take on a light golden color.
Toss the cookies in the rest of the confectioners' sugar as soon as they are out of the oven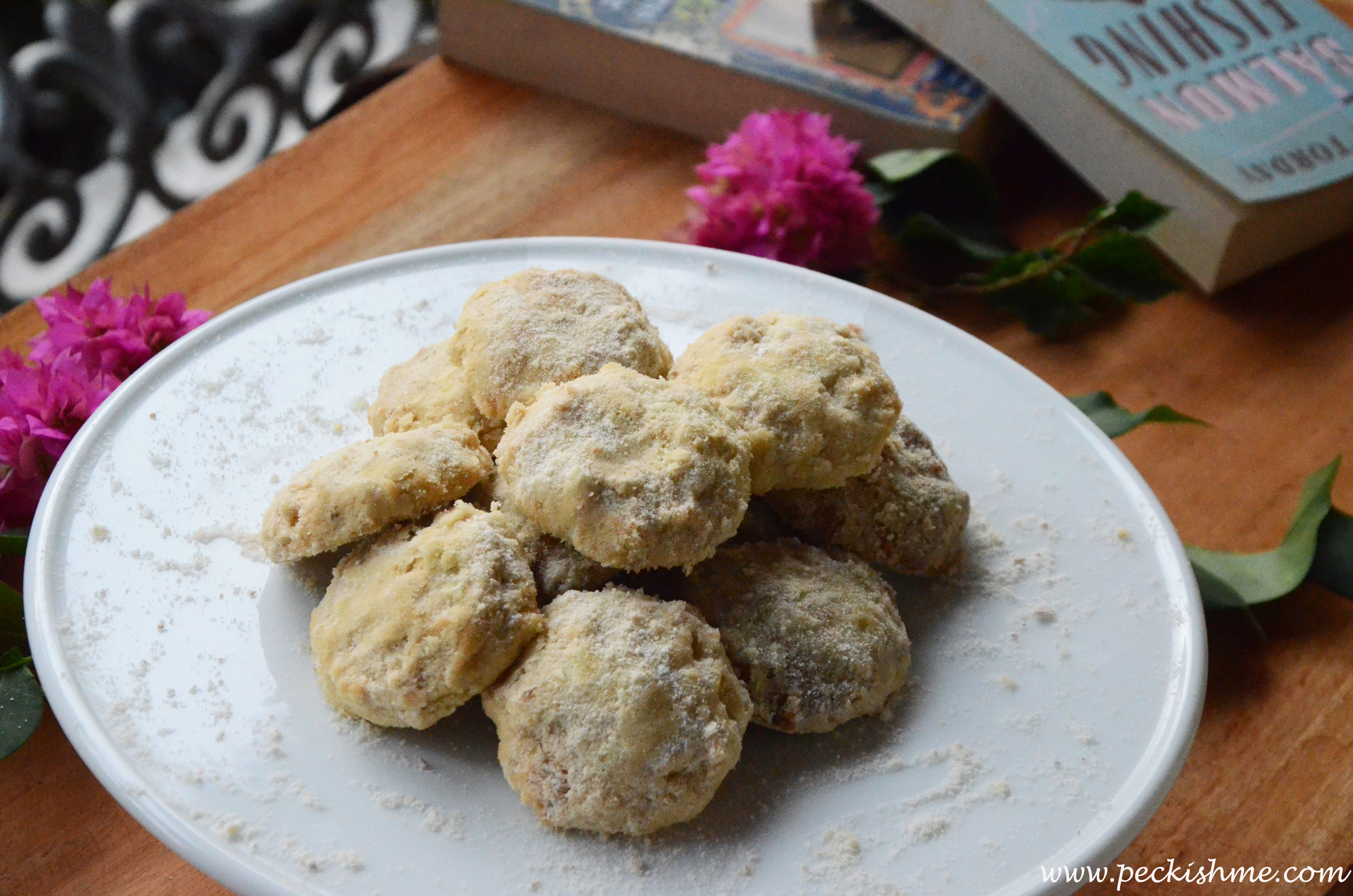 The cookies melt like snowball in your mouth. The first bite itself cools the tongue as the sugar melts against its warm moisture as the cookie easily gives in to the bite in tiny crumbly morsels. Two bites and the cookie melts into you, becomes part of you, leaving only little bits of crunchy almond behind. The buttery of it is beautifully accentuated by the subtle hint of vanilla, making all else disappear but a mellow cloud of sheer delicate beauty reminiscent of the soft Mediterranean afternoon sky.
You can easily gobble up a few of these in one sitting so be aware. This is also a kid friendly recipe. And what better way to keep them happy and satisfied than giving them a homemade snack to munch on!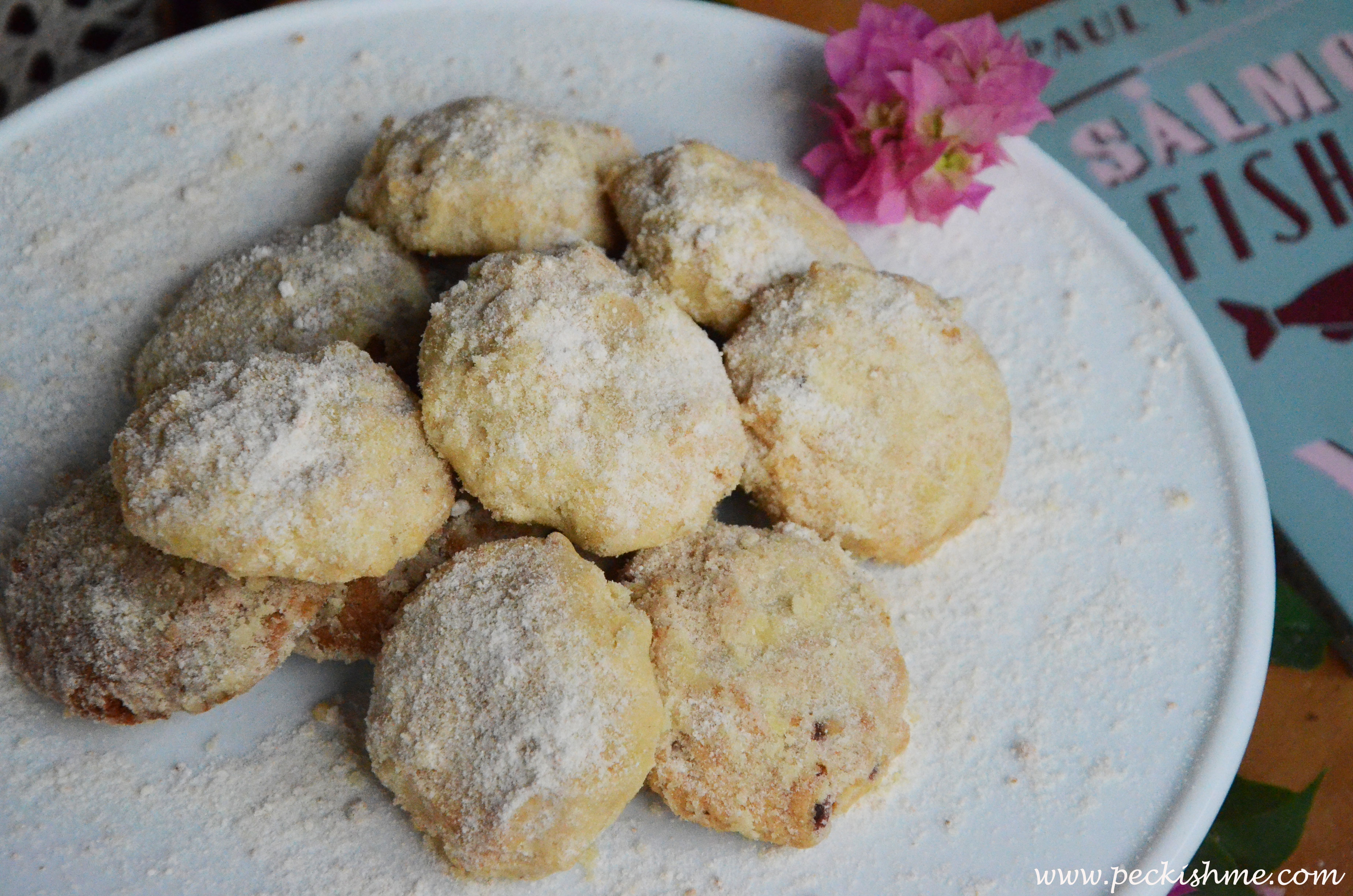 Baking tips
There are no tips really. The cookies are so straightforward that they don't need any special attention.
Do keep an eye on the cookies though. If you want the beautiful ligh color like in the photos, better not let them go brown in the oven.