How would you like a cupcake with chunks of creamy white chocolate, studded with ruby red pieces of cherry? What if you encountered a gooey dark chocolate and then a crunchy multilayered biscuit at the bottom of it all? These cherry cupcakes fit the description and I'm going to tell you how to do it.
And I call them Zellers bottom cupcakes!
Have you encountered this biscuit in the supermarkets? It's like a chocolate cream biscuit but without the other biscuit to sandwich the cream (which is basically a dream come true to those who like to lick the cream and get rid of the biscuits. Teehee). And the biscuit itself has a nice crunch to it which is what made me use them in this otherwise soft and mushy cupcake.
This coming Christmas, I believe these cherry cupcakes are the ideal treat to feed the hordes that arrive by the dozen at your household!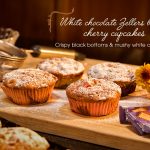 Yield: 12 cupcakes
Prep Time: 10 minutes
Cook Time: 20 minutes
Print
Zellers Bottom Cherry Cupcakes
Ingredients
Instructions
Preheat oven to 180C.
Cream together the sugar and the butter until light. Add the vanilla.
Add in the eggs. Cream together until thick and custardy.
Add in the flour sifted together with baking powder. Mix well until there are no clumps.
Toss the white chocolate chips in some flour. Fold in the white chocolate chips and the chopped cherry into the batter.
Prepare a muffin tray with cupcake casings. Break the Zellers bar in two, place both pieces at the bottom of each cupcake case.
Spoon a tablespoon of the batter into each cupcake casing. Top with a few chocolate chips and pieces of cherry.
Bake for 20 minutes or until a skewer inserted in the middle comes out clean.
When cooled, dust with icing sugar before serving. (This will be a nice shot)
The soft and creamy cupcake is dotted with chunky white chocolate that simply melts in the mouth. It is nice and moist with plenty to savor, your taste buds going ooh-and-ah at the many twists and turns of flavor it encounters. The cherry adds a sweet little pinch like a kiss in sunlight, bright red and sprightly. The gooey chocolate at the bottom comes as a nice surprise and the lovely crunchy biscuit at the bottom comes completely unexpected, adding a bit of bite to every mouthful. Hopefully you will be able to stop at one, because I certainly wasn't able to!
This Christmas season, dare to serve up something different!