Club Ceylon opened its doors in Negombo recently and while we missed the opening due to a prior commitment, we were invited to a quiet dinner later.
I do not rave and that is a statement. But @clubceylon housed in a beautifully restored colonial mansion has that rare sophistication, elegance and that 'je ne sais quoi' that is part and parcel of the place. I loved the place instantly. It is very rare that I connect with a place at this level and this right here is a place after my own heart.
We pretty much had everything on the menu & waddled home, tummies full & happy. Here's a our take.
Oysters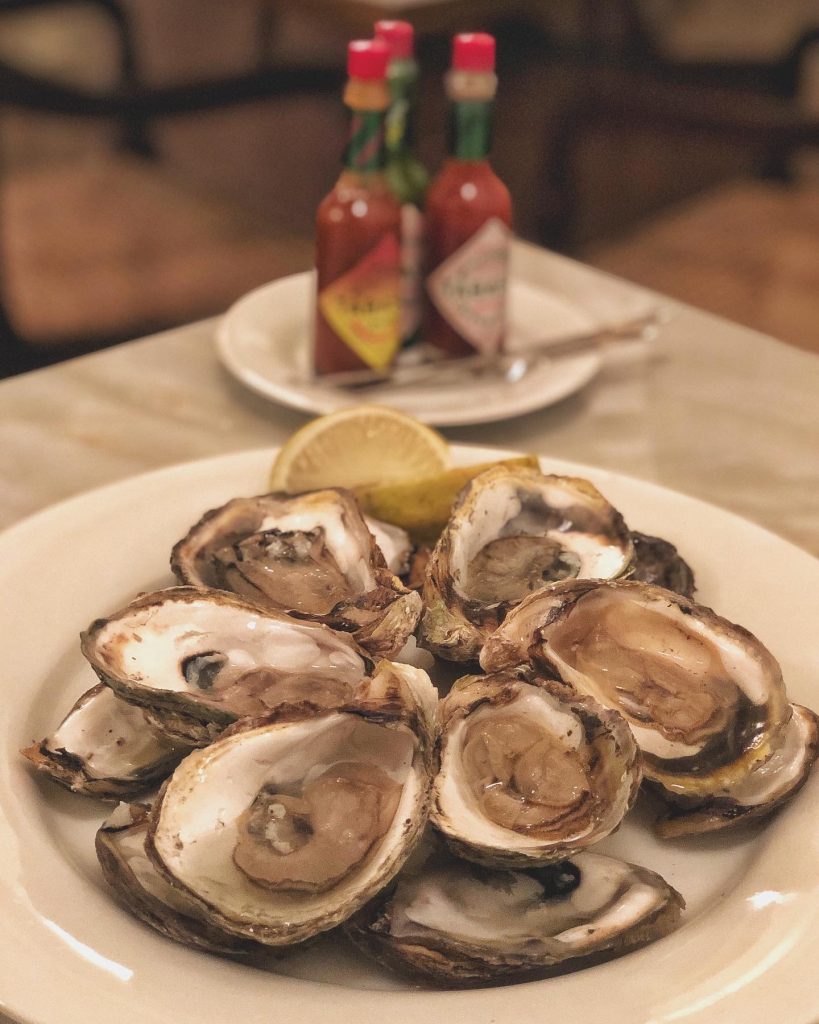 We started off with the most delicately flavored of the lot. Oysters – super fresh, delicate & quite frankly, the freshest and the sweetest I've had in a very long time. It's difficult to find good oysters and I was glad that this place finally caters. The taste of the sea perfectly shucked with no shell nor debris, served with lemon wedges and few varieties of tabasco sauce. As an oyster fan, I really enjoyed this.
Clams in wine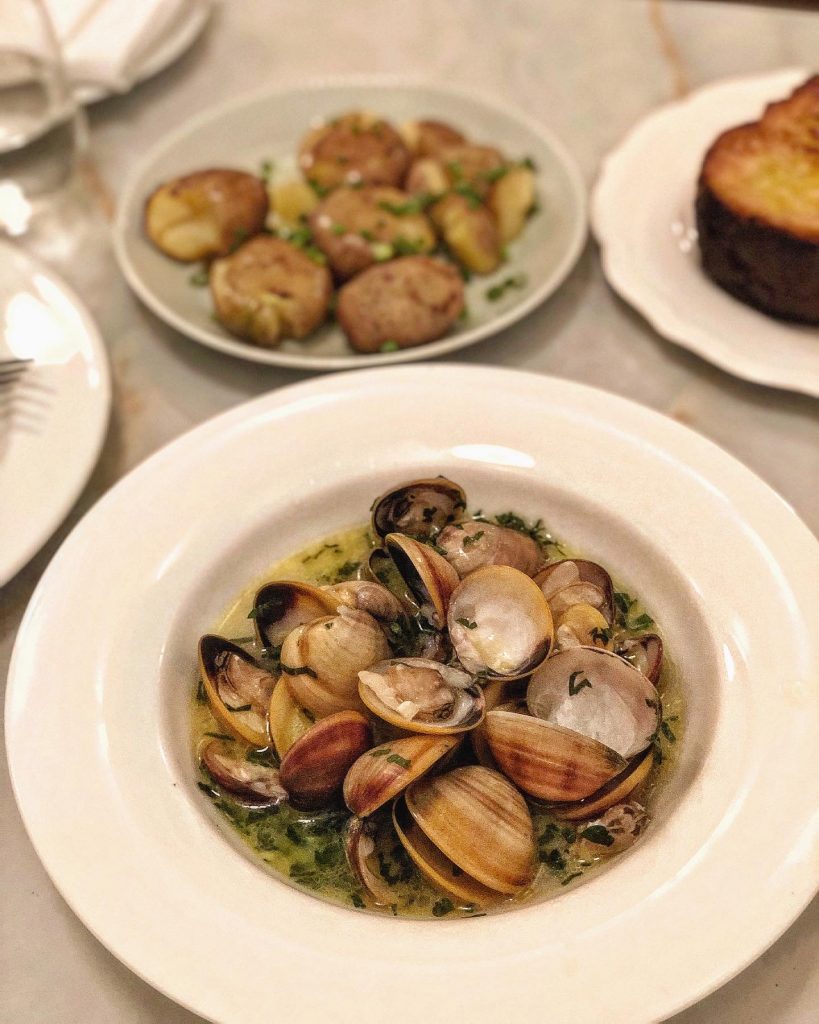 Gently poached in wine and flavored with parsley, these clams were perfectly done. It's easy to see at the first bite that they have been done by someone who loves and understands seafood. Clams are quite delicate and what most chefs and cooks here in Sri Lanka don't understand is (despite living on an island surrounded by the sea) is that they need to be handled gently with minimum interference with their natural sweetness. It touches my heart to find someone who understands this truth about these delicate mollusks and treats them as they should. And don't let all that beautiful broth go to waste! It's bloody good wine!
Potatoes in butter
Not your ordinary potatoes. Basted in butter, scattered with chives, it was the perfect accompaniment. Lacked a bit of salt which we informed the chef.
Grilled bread & olive oil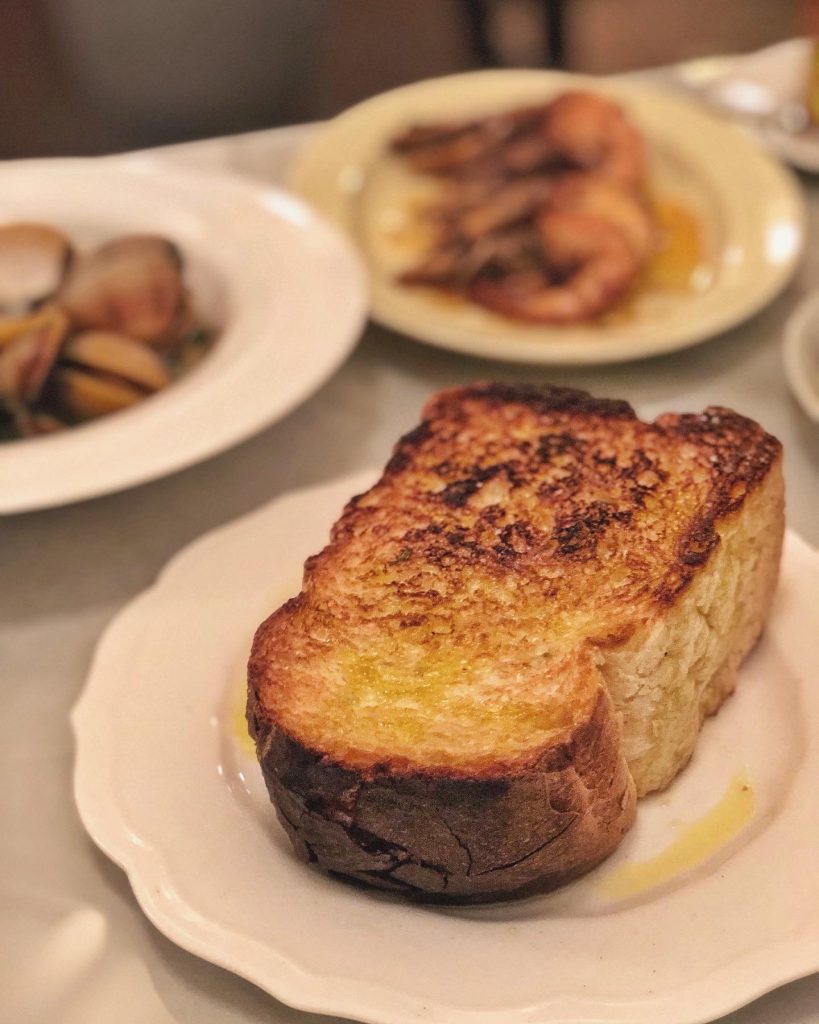 What sorcery is this! As simple as it might sound, this combination of a massive hunk of kadei paan grilled to perfection and drizzled with olive oil was anything BUT ordinary. You can tell the quality of that olive oil at the first bite. Simple things done to perfection that it's so so satisfying!
Paprika prawns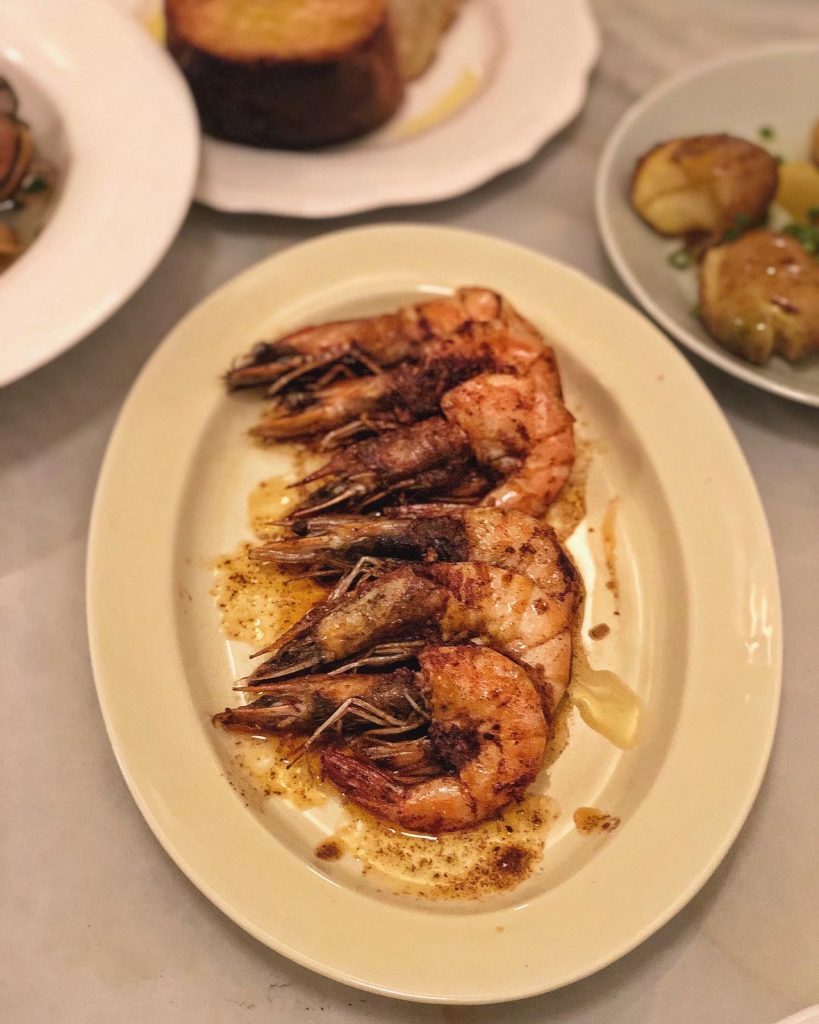 These are the bomb! So much flavor at every bite and cooked to perfection, again, by someone who knows and understands seafood. You cannot get away with overcooking or undercooking seafood and these here were perfectly done!
Grilled leeks & burrata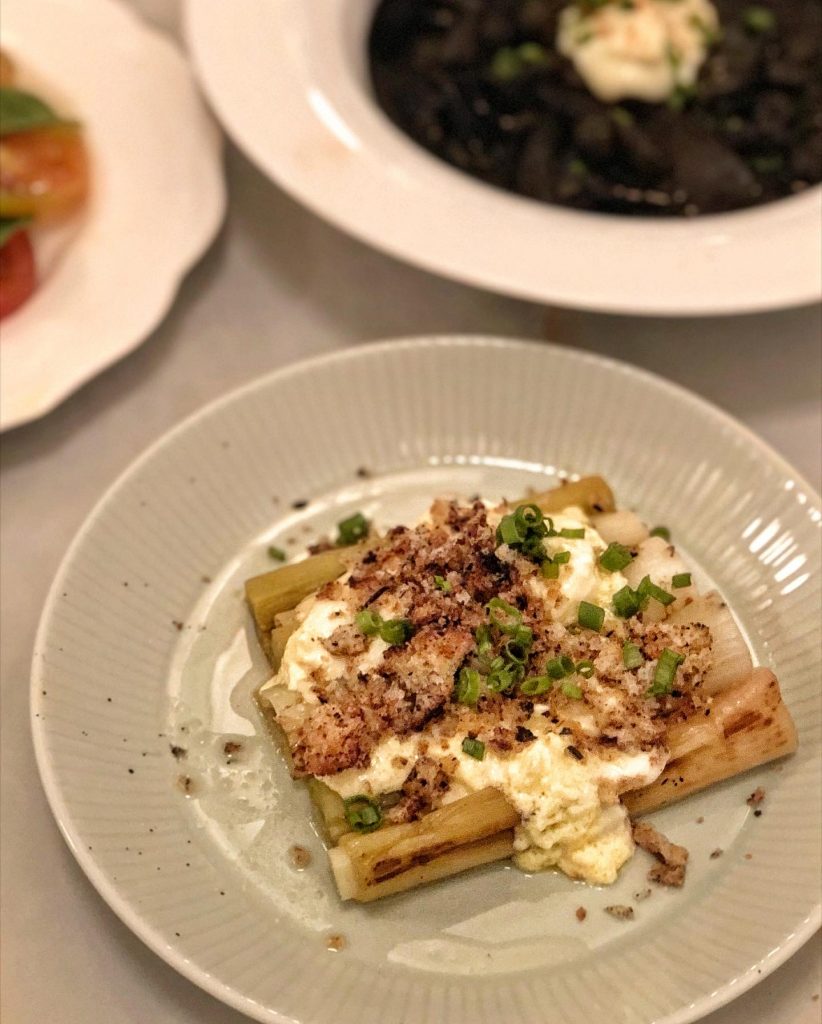 I had no idea that you can do that with leeks! I could have easily polished off another two of these. Creamy with that toasted leek flavor, this was a true palate pleaser for me. I would have been happy with just having this for the night.

Marinated tomatoes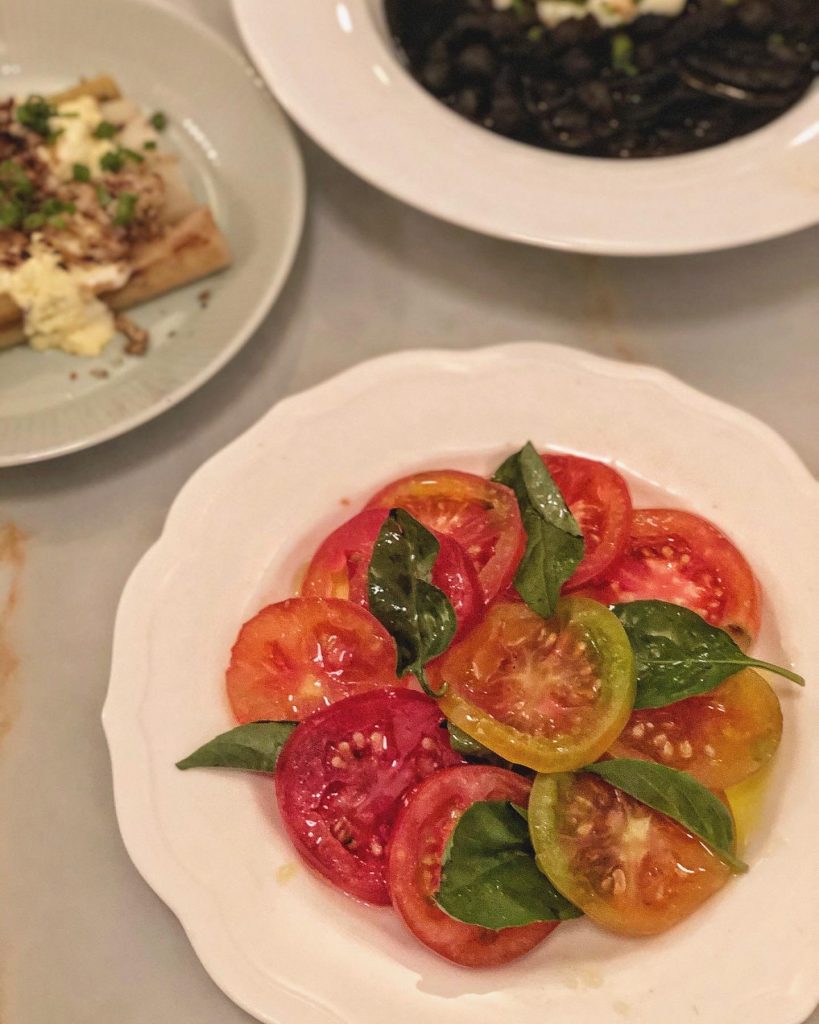 I didn't know that you can marinate tomatoes! It's been marinated in a way that it's less watery and more flavor and is the perfect accompaniment to most of the dishes here. Again, perfect technique by someone who knows food.

Braised squid & chickpeas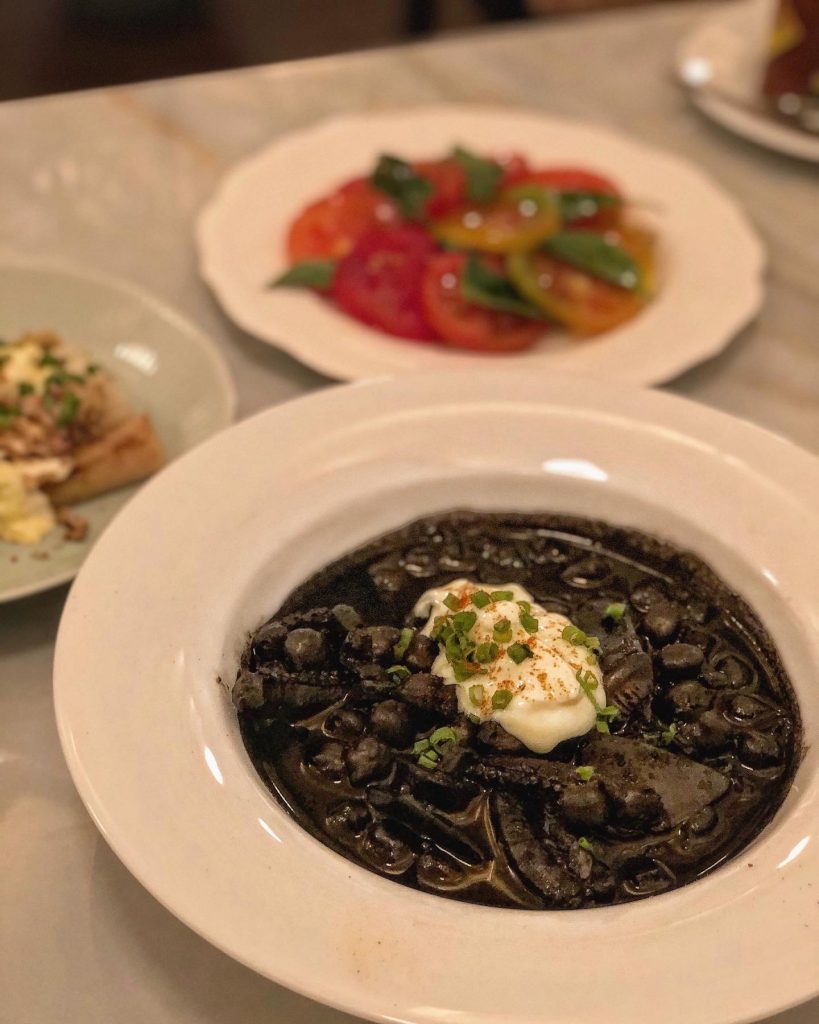 Oh this one's my absolute favorite!!! Deep, intense flavor infused into this wholesome mix of squid and chickpeas with squid ink. You look like a vampire with stained lips and mouth eating it but who the hell cares if the food is so good! Such a lot of flavor and also, there was something so soothing and comforting about this, that I could easily imagine myself digging into a bowl of this on a rainy day.
Olia's feta stuffed Varenky pasta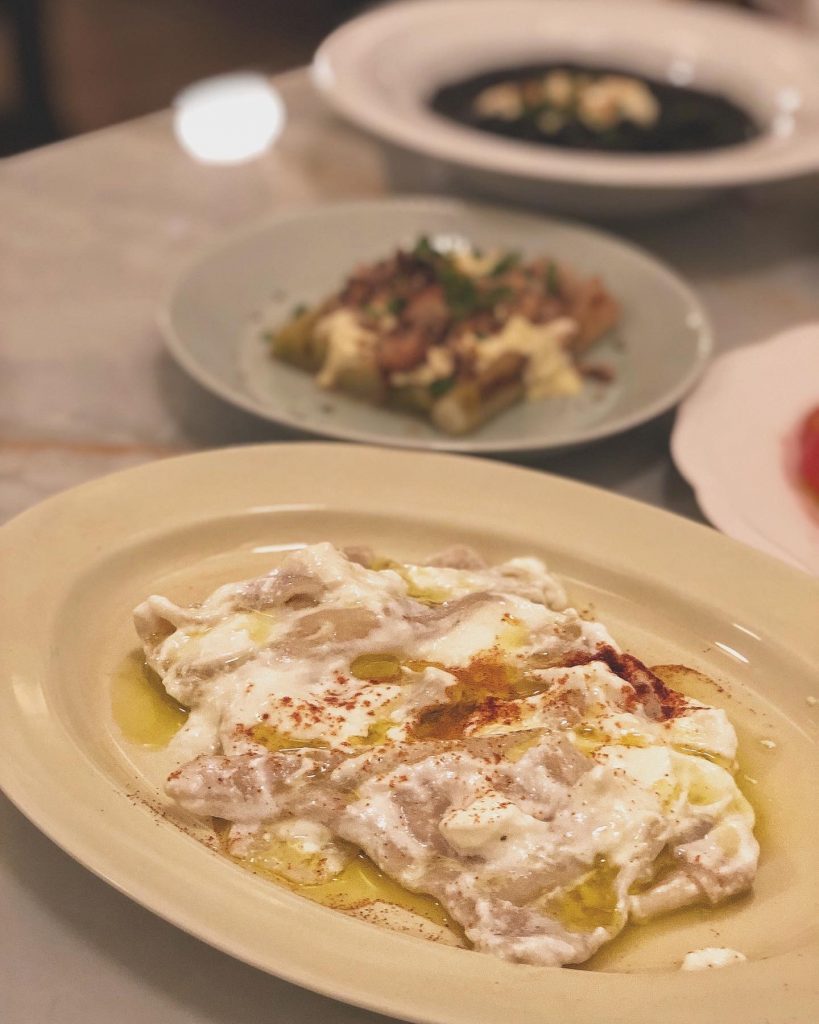 Another hit! Creamy, silky, cheese stuffed pasta that I've never had anywhere before. The flavor is one of opulence and class, with a bit of sourness cutting through the creamy, cheesy thickness of the pasta perfectly. All handmade of course!
We also had the fish and chips. The batter was amazingly crunchy and look me back to Weymouth where we used to have fish and chips by the seaside shivering in the cold. I wasn't too happy with those chips and it turns out they are going to change them.
And the ice creams. Hubster had hazelnut while I had ameretto, two flavors that are not easy to find here in Sri Lanka. I do not like ice cream but this I loved! Beautiful depth of flavor that blossoms on the tongue. If I were ever to have ice cream, this would be it!
It is clear to see (and makes my foodie heart very very happy) that this place is being run by people who know and love their food as much as I do. This place is the very embodiment of how simplicity when executed with proper technique and knowledge can make you stare in awe. That's how we felt at the end of the meal, awestruck.
It's BYOB so grab your favorite wine and come enjoy a leisurely evening or brunch. The ambience is perfect with that quaint old world charm and I really loved their playlist as well – a rarity! And private rooms are available for private gatherings, again with antique furniture and your own private space to gather and host. Do yourself a favor really. And put this place down as a must-experience place in Negombo that is well worth travelling all the way from Colombo for!
Instagram – https://www.instagram.com/clubceylon/
Facebook – https://www.facebook.com/clubceylon