This is the blondie that you momma warned you about!
Seriously, I've been dreaming about cherries and white chocolate the whole week! And this is what I came up with. White chocolate blondies, with cherries no less! Could it get any better!
There's nothing healthy about this. Neither is it all natural. But it does taste so, so good! It is amazing actually and I simply couldn't have enough of it.
Ok enough talk. Here's the recipe.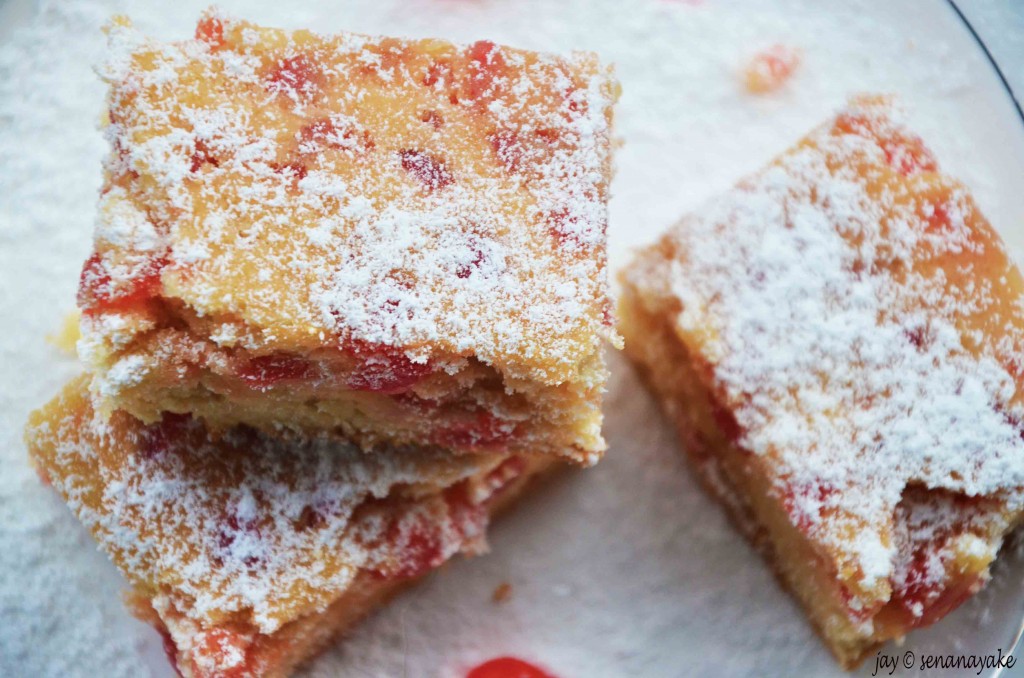 Cherry & white chocolate blondies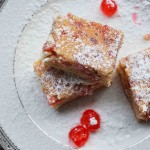 Prep Time : 15 minutes
Cook Time : 30 minutes
Yield :

20 pieces
Instructions
Melt the butter, sugar, milk and 100g of chocolate over a medium heat in a pan. Leave to cool.
Sift the flour together with the baking powder.
Beat the eggs until a thick foam forms. Add to this the chocolate and butter mixture.
Add the almond essence. Add to this the chopped cherries and white chocolate. Mix till combined.
Pour on to a well lined baking tray and bake on moderate heat until a skewer inserted in the middle comes out slightly gooey but firm.
Print
This is simply, a little piece of heaven.
The cherry and the almond reflect and resonate one another, fragrant and wonderfully sweet on the palate. The pieces of cherry just explode with taste and texture, a firm yet juicy presence in soft, yielding, milky dough. The pieces of milk chocolate don't really completely melt so they are there, simply adding texture and flavour, large chunks of smooth, milky chocolate scattered here and there. The cherry cuts through the rich sweetness of the chocolate and allows the two to merge and mingle, creating pleasure, ecstasy and delight in the mind. I've never known a sweet thing to give so much of happiness!
What's beautiful about these blondies is the fact that they are not too sweet. However, they really are delicious and packed full of flavour. You won't believe it unless you try it yourself. It's so, so easy to make too!
Useful Tips
Don't go overboard on baking powder. If you do, it will be light and fluffy with none of that squidgy goodness of blondies.
It's okay for the blondies to be thick. I actually prefer blondies which give me a generous mouthful. Besides with all the cherries involved, it's better that the blondies are thick. They don't rise much so make sure you use a baking tray that is small enough to give your blondies some height.
I suppose you can use fresh cherries for this as well. I'm not quite sure how one should go about doing that since I have never tried it.
Be careful when cutting this. Since chunks of chocolate and cherries are involved, There is a tendency for the blondies to crumble of cut carelessly.
Last but not the least, sit down and make time to really savour this lovely treat.