I am not quite sure when exactly my love affair with Spain began. Was it while watching Spanish movies in which the languid speech of the dashing performers rolled off the tongue in delicious consonants? Was it during those extensive Flamenco classes when my whole body vibrated to the tunes of the Flamenco drum and swayed to the rhythms of the Spanish guitar? Or was it that time I visited Madrid briefly and fell in love, totally, completely and head over heels with its warmth, its generosity, its rollicking language, its vigorous people and its spirit of carefree candidness?
And I ask myself again – does it matter?
One of my most memorable moments in Madrid would be strolling hand in hand with my husband – the love of my life, stars in our eyes and so in awe of the surroundings, taking in the smell of delicious things in making to be indulged in after the siesta. And then we would sit at a roadside café musing over all the things we had seen and experienced, sipping at coffee and nibbling at piping hot croquettas, looking forward to the evening when the city would come alive and its inhabitants out and about, ready to have a good time. Ah those Spanish nights! How I wish I could relive them, hand in hand with the love of my life by my side!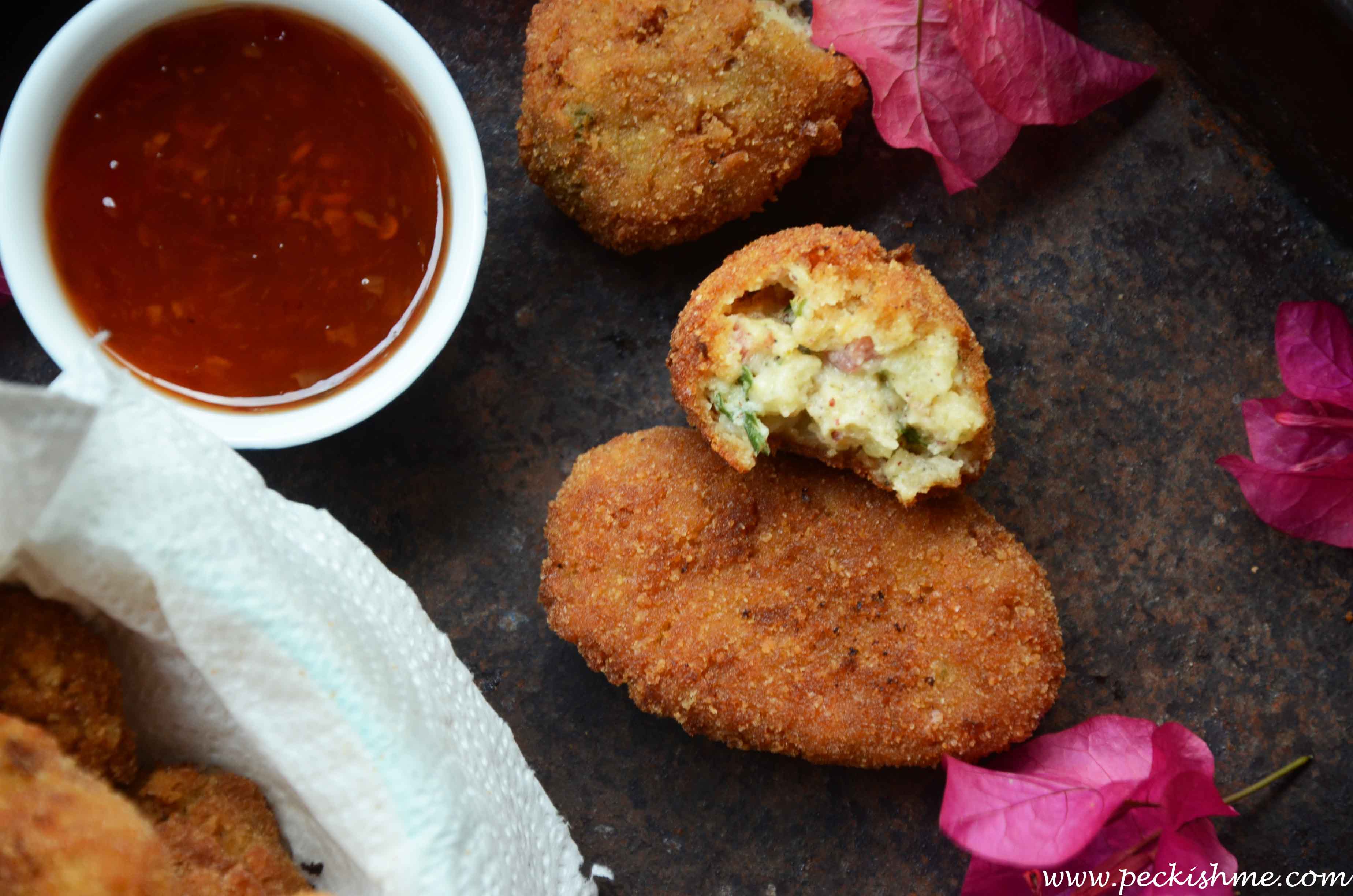 Croquettas. When in Spain, you are most likely to get bombarded with a large selection of croquettas – some made of ham, chicken, mushroom, vegetables, blood sausage and even some beans such as the Garbanzo Bean. But the ham croquette of Spain is perhaps the most famous of them all. Spain is a country well known for its excellent ham – in particular, its jamón ibérico which is a wonderfully dry-cured ham obtained from acorn-fed free range black Iberian pigs that is considered an utmost delicacy. But croquettas are mostly made from Jamón Serrano, the ham made from ordinary white pigs as I suppose the jamón ibérico is a little too precious to be drowned in other flavors and is preferred as a delicacy on its own instead.
In this recipe I am using bacon – as any pork-loving Sri Lankan knows, thanks to this "chicken ham" nonsense that has taken the country by its balls (for God's sake, they have chicken bacon too now!), it is not easy to find good quality ham nowadays. Finding bacon is easier but sometimes I fear that bacon too may go extinct one of these days *shudder*.
So PORK is essential in this recipe. It's either pork or no croquettas for you. Don't ruin my recipe! Hmpf!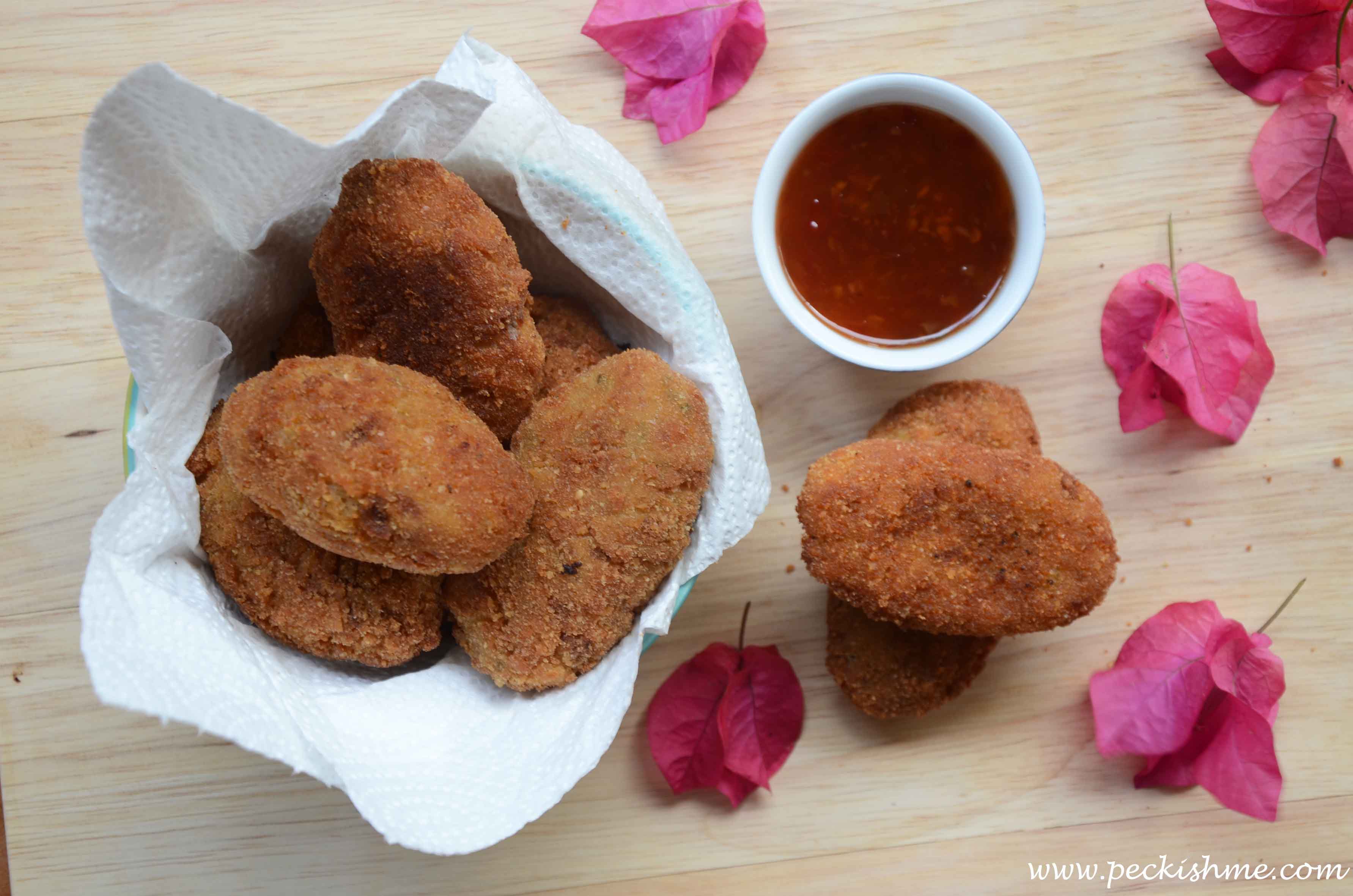 Spanish ham croquettes
Ingredients
Flour - ½ cup
3 - Eggs
Breadcrumbs - 3 Cups
Oil - For frying
For the stuffing
Ham - 300g, good quality, chopped (and if you can't find good quality ham, go for the bacon)
Onions - 3, large, finely minced
Garlic - 2 tblsps, minced
Potatoes - 3, large, boiled, mashed and sieved
Flour - ¼ cup
Milk - 3 cups
Parsley - 1 cup, fresh, chopped
Butter - 3 tblsps
Instructions
To make the stuffing
Heat a pan and add the butter to it. Sauté the garlic till fragrant (not brown) and add onions. Don't let the garlic burn.  The onions should ideally become translucent at the point.
Add in the flour and whisk until it gives out a slightly nutty aroma.
Next, add in half the milk and whisk the mixture well so that the flour is incorporated well. Bring to a boil and add the rest of the milk stirring constantly until the mixture thickens.
Next, add in the ham and season lightly with salt and pepper. The ham is already salty, so be careful with the salt.
Next, stir in the mashed potatoes. Mix well and add in the pinch of nutmeg. Cook the mixture for 5 minutes and take off heat.
Spread the mixture on a wide tray and refrigerate preferably overnight or at least 3 hours. The mixture should ideally set to a rollable consistency.
To assemble
Beat the eggs with a fork in a different bowl.
Shape the ham mixture with two spoons into small elongated egg shapes and roll them in bread crumbs. Dip each in the egg mix and again in the bread crumbs.
Arrange the croquettes in a single layer and refrigerate at least 30 minutes prior to frying.
Heat oil in a deep pan until smoking over high heat. When the oil is smoking, carefully slip 3 -4 croquettes into the oil and fry till golden brown.
Take out of oil and drain excess oil on kitchen paper. Repeat until all croquettes have been fried.
Serve warm with a dip of your choice. I prefer mine with sweet chili sauce :)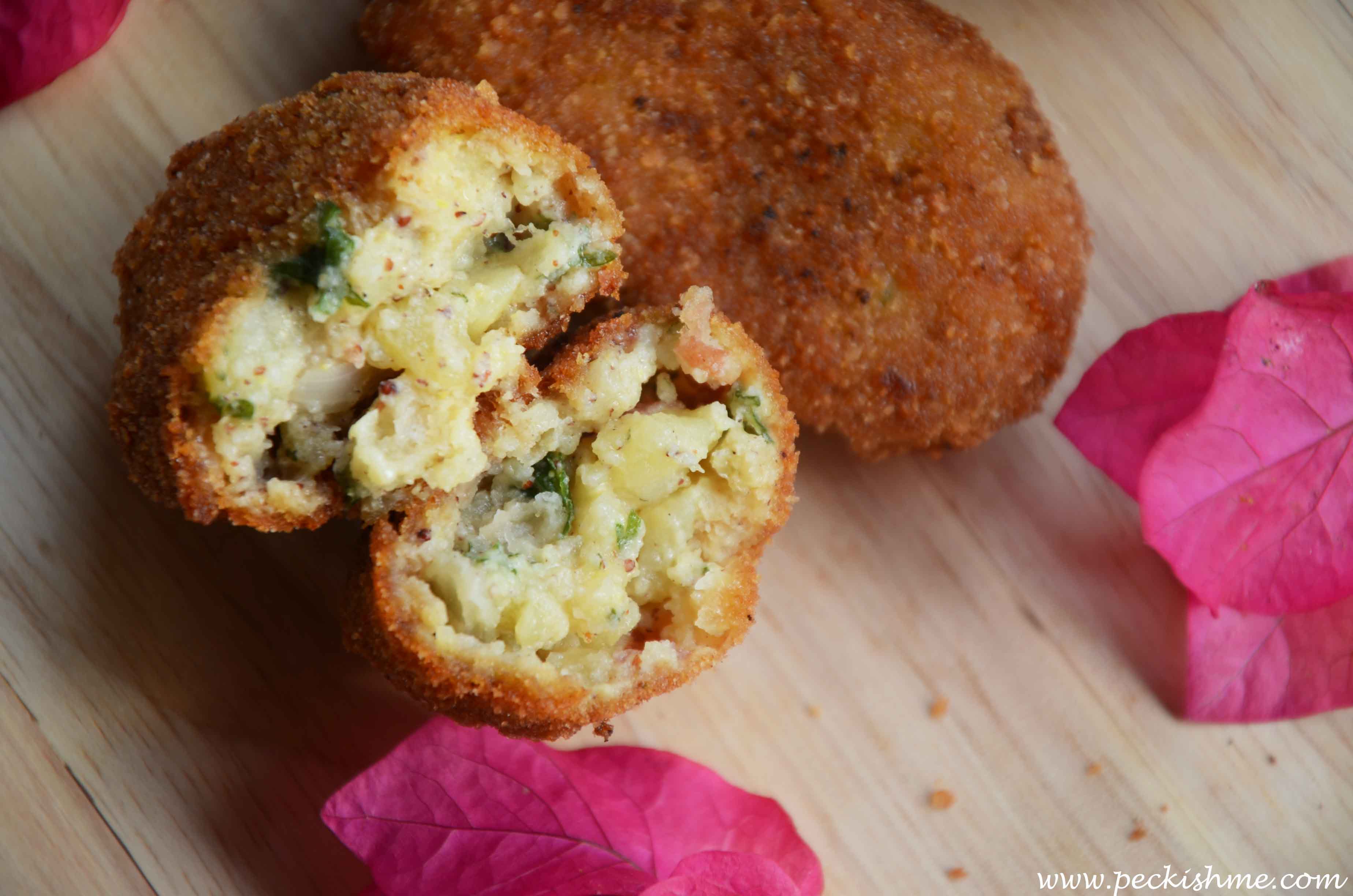 Deliciously crusty exterior crunchy to the mouth meets a gooey, salty centre packed with so much flavor! The wonderful crunch of fried things meets the delightfully smooth potato and the indulgently silky béchamel dotted ever so generously with pieces of precious, salty ham packing a punch with a lusty smokiness. The garlic adds to the elegance of the dish while that tiny little pinch of nutmeg gives it just that little hint of heat that is enough to uplift and elevate. The parsley adds a hint of greenness and works so wonderfully with the smokiness of the ham, the earthy potato – earth, grass and salt coming together in a perfect harmony.
Trust me when I say this – this is exactly what you need in your life right now. This, a cup of coffee and some time alone to yourself as you picture yourself sitting at that roadside café enjoying your croquettes and soaking in the atmosphere.
And here's a picture of me doing exactly that!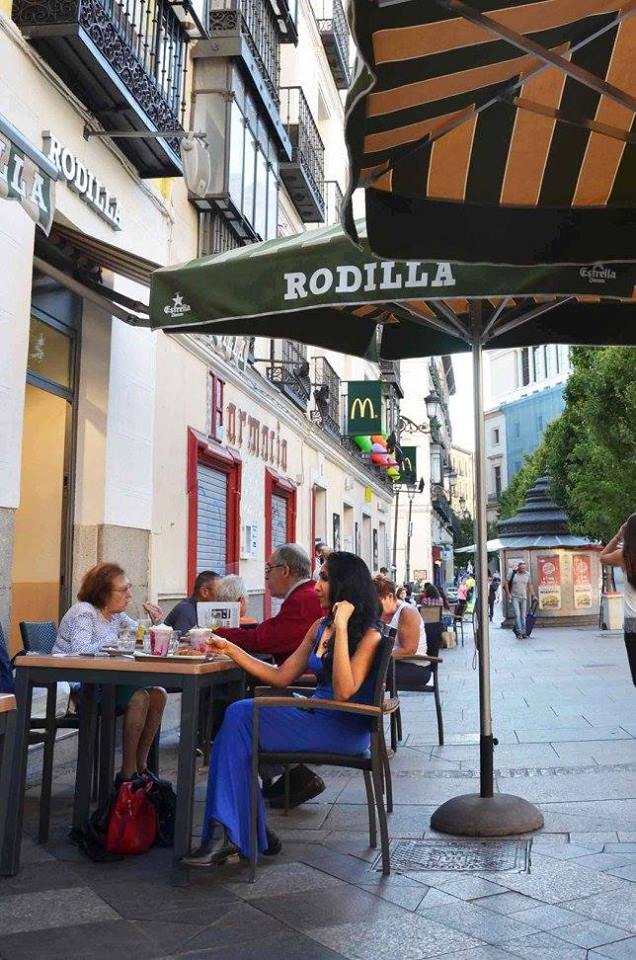 Cooking tips
I can't stress this enough – ham is the answer. And I can't even believe that I'm saying this, it should be good quality PORK ham. If you cant find good quality ham, go for bacon. And by that I mean PORK bacon. Geez, this is insane. Readers from other countries, please bear with me – our country is so unique as to have "chicken" bacon and "chicken" ham in their list of grocery items
The ham mix would be rather liquidy but do not fret. Rest it enough in the fridge and you will get something solid to work with. Don't over burden it to counter with the liquid-ness because you will be thankful for the runny mixture when you bite into one of those croquettas when you're done.
The potato is my own twist. You can still not use the potatoes and it would still be fine.