Essentially an Avrudu treat all the way from the South Coast of the Island, if I had to choose my favourite among Avrudu Food, this would come absolutely first. A crunchy, crust outside and juicy, caramelized coconut inside, each bite gives goosebumps. How can I resist!
Both my parents being southerners, my mother is especially apt at creating such delicacies that are lesser known to the rest of the public. She would make the most innovative dishes out of the most unusual ingredients only for me to find out that they are treats from her own childhood. Well, thank god for a foodie matriarch who knows her stuff!
All that she knows she has learnt from my Grandmother who is no more with us today. This is her recipe and the recipe of her mother and grandmothers before her. Here is my tribute to Grandmother – a woman who was larger than life.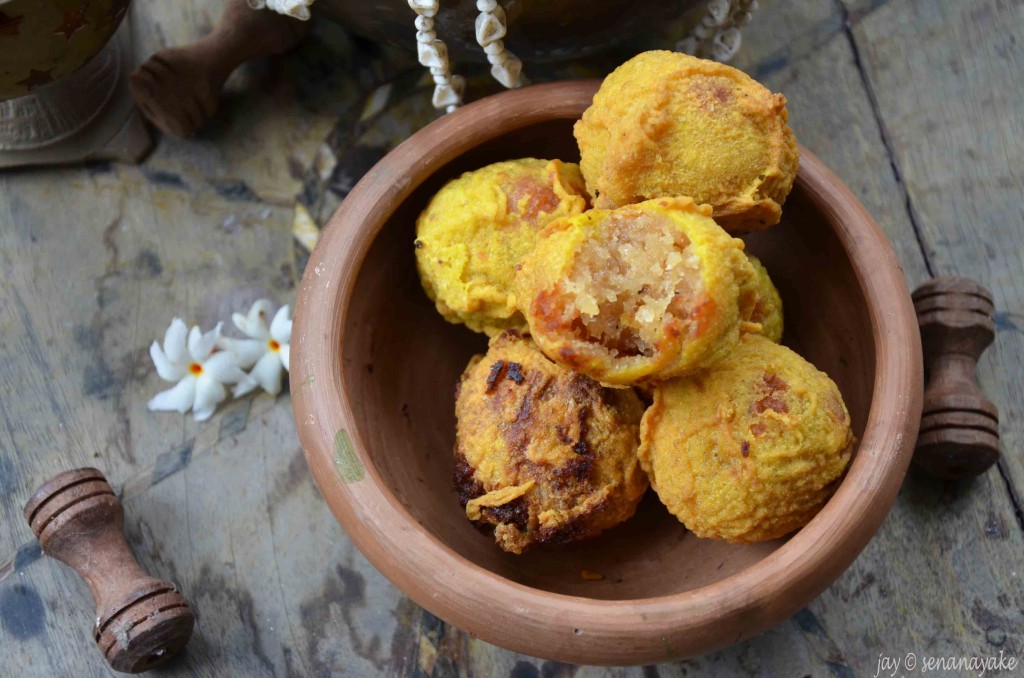 Ingredients
2 cups Freshly grated Coconut
1/3 cup rice flour
1/2 cup Kithul (Palm) treacle
1/2 cup sugar
100g jaggery
Pinch of salt
1 tblspoon Crushed Cardamom
Coconut oil for frying
For the Batter
250g Rice flour
100ml Coconut Milk
Pinch of salt
1/2 tsp Turmeric
Method
Combine treacle, sugar, jaggery, salt, cardamom, cinnamon and nutmeg until dissolved over the stove. Bring to a boil and reduce until a thick syrup forms.
Add to this the coconut. Let it come to a deep brown colour. Keep on heat till some of the moisture evaporates but the mixture is still wet.
Add to this the rice flour. Mix well making sure that there are no clots.
Leave to cool and form balls with the mixture.
To make the batter, combine the rice flour and the coconut milk together with the salt. The mixture should be the consistency of a thick pancake batter.
Heat the oil for deep frying.
Roll the previously formed coconut balls in rice flour, dip them in the batter and drop into the oil. Fry till golden brown.
Store in an airtight container.
Oh I just can't stop eating these! Since it was my first time, I only made a few as a test batch. Now I am thinking, I should have made more! So juicy, so caramely, it's SO good that I am convinced that it's not good for me. Oh but it is!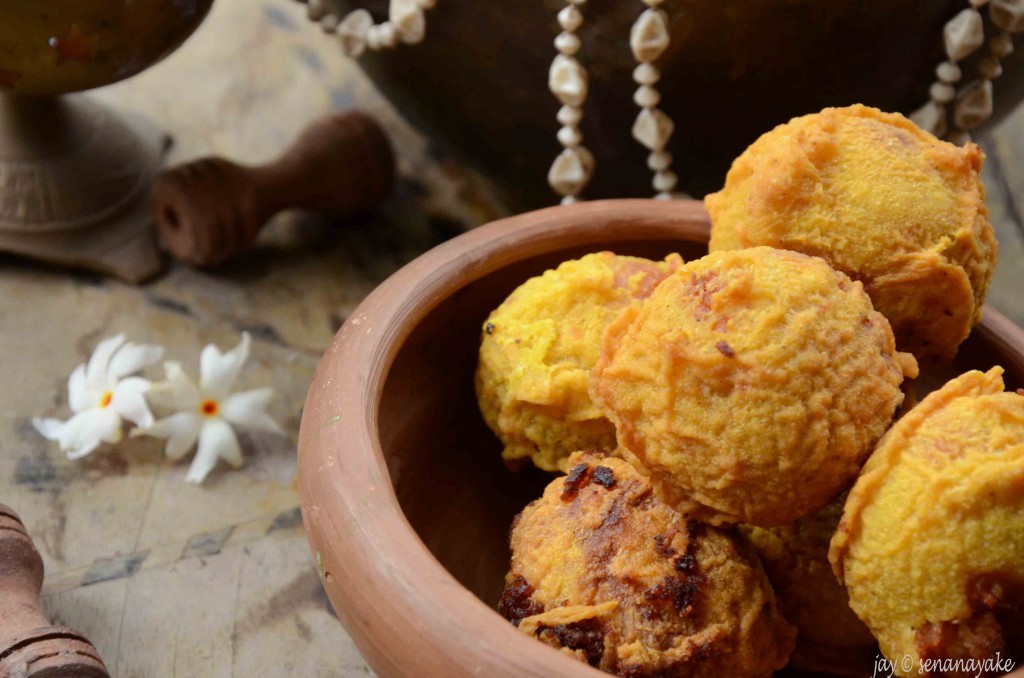 Some tips
When adding rice flour into the coconut mixture, you can choose your own consistency. Just make sure that the mixture is dense enough so that when you form balls, they are not too loose. If they are loose, the balls tend to fall apart in oil. Rule of thumb just remember, the lesser the rice flour in the mixture,more delicious it will be!
I forgot to add jaggery in the coconut mixture when making this. Add jaggery for a richer and deeper taste.
When frying the battered balls, make sure that you drop them into the oil one at a time. They tend to stick together in oil, so make sure they are fried with space apart so that they do not touch each other.
Oh the yumminess! I simply CANNOT get over how good these are! And so easy to make too!